| | |
| --- | --- |
| | Apple A16 Bionic GPU @ 3460 MHz specs |
Apple A16 Bionic @ 3460 MHz top level GPU is built - in Apple's chip of the same name that is installed in the iPad Pro 5 (2022), iPhone 14 Pro, released in 2022. The Graphics Processing Unit created by a 4 nm process. Apple A16 Bionic @ 3460 MHz has five cores operating at 3460 MHz and is responsible for working with graphical data, or in simple terms the GPU helps games pleasing to the eye and look well and more beautiful, for instance Minecraft, Asphalt 9, GTA, Fortnite, Madout2, Call of Duty, PUBG and many others.
To understand Apple A16 Bionic GPU is good or bad from comparisons with other graphics processing units and testing results.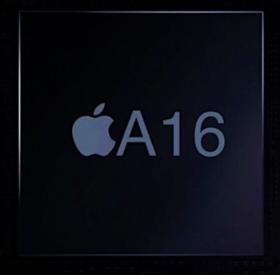 Apple A16 Bionic @ 3460 MHz GPU specifications
General Info
| | |
| --- | --- |
| Name | Apple A16 Bionic |
| Codename (Generation) | APL1102 |
| Frequency | 3460 MHz |
| Cores | 5 |
| Process | 4 nm |
| GFLOPs FP32 (Single Precision) | 3200 GFLOPs |
| Triangle Fillrate | 1320 MT/s |
| Pixel Fillrate | 42 GP/s |
| Memory bandwidth | 94 GB/s |
| Release date | 2022-09-10 |
Display
DirectX
12
Video encoding/decoding
AV1:No
h264:Decode & Encode
VC-1:Decode
AVC:Decode
VP9:Decode & Encode
h265/HEVC (10 bit):Decode & Encode
JPEG:Decode & Encode
VP8:Decode & Encode
h265/HEVC (8 bit):Decode & Encode
Anti-aliasing
4x MSAA, 8x MSAA, 16x MSAA
Technology
API Metal 2, OpenGL ES 3.2,OpenGL 3.3,OpenVG 1.2,DirectX 12,OpenCL 2.0,Volumetric VR video playback, 8K 360 VR video playback,Vulkan 1.1




• GPU Fortnite Mobile
• GPU PUBG mobile
• GPU Benchmarks
• GPU Devices lists
• GPU SoCs lists


Apple A16 Bionic GPU Comparisons
• Vs Adreno 730 (970MHz)
• Vs Apple M1 (3200MHz)
• Vs Samsung Xclipse 920 (500MHz)
• Vs Adreno 662 (800MHz)
• Vs Adreno 660 (700MHz)
• Vs Mali-G710 MP16 (650MHz)
• Vs Mali-G78AE (700MHz)
• Vs Mali-G78 MP24 (650MHz)
• Vs Apple A12Z Bionic (2500MHz)
• Vs Adreno 430 (600MHz)
• Vs Mali-G78 MP22 (650MHz)
• Vs Mali-G78 MP14 (700MHz)
• Vs Apple A12X Bionic (2500MHz)
• Vs Mali-G78 MP10 (700MHz)
• Vs Adreno 650 (645MHz)
• Vs Apple A14 Bionic (3000MHz)
• Vs Mali-G68 MP6 (700MHz)
• Vs Mali-G610 MC3 (600MHz)
• Vs Mali-G610 MP6 (600MHz)
• Vs Adreno 650 (600MHz)
• Vs Mali-G77 MC9 (800MHz)
• Vs Mali-G77 MP11 (800MHz)
• Vs Mali-G68 MC4 (800MHz)
• Vs Adreno 642L (550MHz)
• Vs Apple A13 Bionic (2600MHz)
• Vs PowerVR BXM-8-256 (800MHz)
• Vs Mali-G57 MP5 (850MHz)
• Vs Apple A12 Bionic (2500MHz)
• Vs Mali-G77 MP8 (800MHz)
• Vs Adreno 690 (600MHz)
• Vs Mali-G57 MP6 (850MHz)
• Vs Mali-G510 MP6 (800MHz)
• Vs Apple A15 Bionic GPU (3232MHz)
• Vs Mali-G710 MP07 (850MHz)
• Vs Apple M2 (3490MHz)
• Vs Immortalis-G715 MC16 (750MHz)
• Vs Mali-G615 (700MHz)
• Vs Mali-G715 MP9 (750MHz)