| | |
| --- | --- |
| | |
Allwinner A133 mid-range CPU is installed in mobile devices such as tablets and smartphones, released in 2020. The CPU produced by a 12 nm process. The SoC has a four cores divided into clusters. The first block Cortex-A53 is the fastest with four cores running at 1.6 GHz. The CPU has support for 64-bit data. PowerVR GE8300 GPU is responsible for operating with graphical data.
Gadgets that have the A133 can work in 4th generation networks. Maximum speed of download and send are 150 MBit/s and 50 MBit/s with the modem.
To understand A133 SoC is good or bad from comparisons with other processors and benchmark data.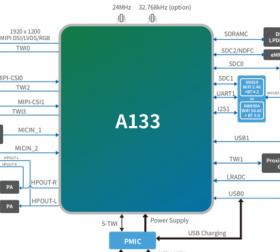 Allwinner A133 specifications
General Info
| | |
| --- | --- |
| Brand | Allwinner |
| Name | A133 |
| Model | A133 |
| Release date | 2020 |
| CPU configuration | 4x1.6 GHz Cortex-A53 |
| Instruction set architecture | ARMv8-A |
| Frequency | 1600 MHz |
| Cores | 4 |
| Word Size | 64 bit |
| Process | 12 nm |
| Transistor count | ? |
| Security | SID, CryptoEngine, Trust Zone |
| Power consumption (TDP) | 6 W |
| L1 cache | 256 KB |
| L2 cache | 1 MB |
| L3 cache | 8 MB |
Graphics
| | |
| --- | --- |
| GPU | PowerVR GE8300 |
| Frequency | 660 MHz |
| Cores | 2 |
| Process | 28 nm |
Memory
| | |
| --- | --- |
| Type | LPDDR3,LPDDR4 |
| Frequency | 2x LPDDR4 up to 1600MHz, 1x LPDDR3 up to 933MHz |
| Max volume | DDR3/DDR3L/DDR4/LPDDR3/LPDDR4, 32-bit 4Gb |
| Internal type | eMMC 5.1 |
| Memory bandwidth | 6 GB/s |
| Memory bus | 1x 32 Bit |
Connectivity
| | |
| --- | --- |
| Download speed | 150 MBit/s |
| Upload speed | 50 MBit/s |
| LTE Cat | Cat-4 DL / Cat-4/6 UL/DL |
| Wi-Fi ranges | a/b/g/n/ac |
| Location | GPS,Galileo,Glonass,Beidou |
| Wi-Fi ver. | 5 |
| Bluetooth ver. | 5 |
Cameras
| | |
| --- | --- |
| Main camera max resolution | 13 MPix |
| Second camera max resolution | 8 and 8 MPix |
| Codecs | 4096 x 2160, max FPS 30. Codec: H.264, H.265/HEVC |
Display and Audio
| | |
| --- | --- |
| Maximum Display resolution | 1920 x 1080 pix |
| Video encoding | Resolution 4K, 2K, FullHD, max FPS 30. Codec: H.264, H.265/HEVC |

• Benchmarks
• PUBG mobile
• Fortnite Mobile
• Devices lists
• 3DMark
• GeekBench 5 mobile
• Antutu 8


Allwinner A133 SoC Comparisons
• Vs HiSilicon Kirin 650
• Vs Unisoc SC9853I
• Vs MediaTek Helio A20
• Vs HiSilicon Kirin 935
• Vs MediaTek Helio P10 (MT6755)
• Vs MediaTek Helio A22
• Vs MediaTek Helio P15 (MT6755 Pro)
• Vs MediaTek Helio X10 (MT6795T)
• Vs MediaTek Helio P18
• Vs Samsung Exynos 5 Octa 5430
• Vs Qualcomm Snapdragon 439
• Vs MediaTek Helio P23 (MT6763)
• Vs HiSilicon Kirin 658
• Vs HiSilicon Kirin 655
• Vs Qualcomm Snapdragon 805
• Vs MediaTek Helio P25 Lite (MT6757CD)
• Vs Atom x5-Z8350
• Vs MediaTek MT6595M
• Vs MediaTek Helio P23 (MT6763V)
• Vs Samsung Exynos 7 Octa 7880
• Vs Qualcomm Snapdragon 450 SDM450
• Vs MediaTek Helio P23 (MT6763T)
• Vs MediaTek Helio P30 (MT6758)
• Vs Qualcomm Snapdragon 625 MSM8953
• Vs Atom x5-Z8300
• Vs MediaTek Helio P20 (MT6757)
• Vs HiSilicon Kirin 960
• Vs MediaTek Helio A25
• Vs MediaTek Helio X25 (MT6797T)
• Vs Qualcomm Snapdragon 632
• Vs MediaTek MT8768T
• Vs MediaTek Helio X23 (MT6797D)
• Vs Samsung Exynos 5 Hexa 7872
• Vs Qualcomm Snapdragon 653 MSM8976 Pro
• Vs Qualcomm Snapdragon 650 MSM8956
• Vs MediaTek Helio P22T
• Vs MediaTek Helio P35
• Vs MediaTek Helio X20 (MT6797)
• Vs Qualcomm Snapdragon 652 MSM8976
• Vs MediaTek MT8176
• Vs Samsung Exynos 7 Octa 7420
• Vs MediaTek Helio P22
• Vs HiSilicon Kirin 659
• Vs Qualcomm Snapdragon 810 MSM8994
• Vs Atom x5-Z8550
• Vs Unisoc SC9863A
• Vs Atom x5-Z8500
• Vs Samsung Exynos 7 Octa 7884B
• Vs Atom x7-Z8700
• Vs Qualcomm Snapdragon 626 MSM8953 Pro
• Vs Qualcomm Snapdragon SiP1
• Vs Qualcomm Snapdragon 630
• Vs Qualcomm Snapdragon 429
• Vs MediaTek Helio P25 (MT6757CD)
• Vs Qualcomm Snapdragon 808 MSM8992
• Vs MediaTek Helio P25 (MT6757T)
• Vs MediaTek MT6595
• Vs MediaTek Helio X10 (MT6795)
• Vs Samsung Exynos 7 Octa 5433
• Vs Atom Z3590
• Vs Unisoc SC79863a
• Vs MediaTek MT8766
• Vs Rockchip RK3566
• Vs MediaTek MT8168
• Vs MediaTek MT8788
• Vs Rockchip RK3326S
• Vs Qualcomm QCM2290
• Vs Qualcomm QCS2290