| | |
| --- | --- |
| | |
Apple M2 Pro at 3.49 GHz Top Level CPU 2nd generation with 8x Avalanche and 4x Blizzard core name, is working in Apple Mac Studio (2022), MacBook Pro and Air 2022, date of announcement October 20, 2022. The CPU manufactured using 4 nm process technology. Apple M2 Pro has 12 cores and 12 Threads operating at a frequency of 3.49 GHz with typical Thermal Design Power 14 W.
The rest of the technical specifications and some more information about the CPU like Memory Specification/Type, 64 Bit support, Unlocked or not, Cashes Size, Overclocking, Die Size, Architecture and other can be found further down the text.
You can understand Apple M2 Pro is bad or good from comparisons with other processors and testing data.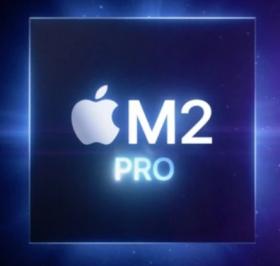 Apple M2 Pro specifications
General Info
Name
Apple M2 Pro
Core name
8x Avalanche and 4x Blizzard
Generation
2nd
Architecture
hybrid (big.LITTLE)
Release date
October 20, 2022
Instruction set architecture
ARMv8.5-A
Frequency
3.49 GHz
Min frequency
2.5 GHz
Cores
12
Threads
12
Socket
M2
Thermal Solution
No
Thermal Design Power (TDP)
14 W
Min TDP
9 W
Max. Temperature
94 &degC
L3 Cache
36MB
Word Size
64 bit
TSMC FinFET process (Lithography)
4 nm
Transistor count
42000 million

Supported OS
macOS
Performance
| | |
| --- | --- |
| Cinebench R15 Multi-Core | 2078 |
| Cinebench R15 Single-Core | 366 |
| Cinebench R20 Multi-Core | 3555 |
| Cinebench R20 Single-Core | 714 |
| Cinebench R23 Multi-Core | 16023 |
| Cinebench R23 Single-Core | 2063 |
| GeekBench 5.2 Multi-Core | 16467 |
| GeekBench 5.2 Single-Core | 2085 |
| PassMark | 39485 |
| Single Thread Mark | 6111 |
Graphics
| | |
| --- | --- |
| GPU | Apple M2 GPU |
| Frequency | 3490 MHz |
| Cores | 16 |
| Max Displays | 3 |
Memory
| | |
| --- | --- |
| Type | LPDDR5 - Up to 6400MHz |
| Frequency | 6400 MHz |
| Memory Channels | 256 |
| Memory Speed | 208 GByte/s |
| Memory Size | 32 Gb |

• Cinebench r15 score
• Cinebench r20 score
• Cinebench r23 score
• GeekBench 5 score


Apple M2 Pro Processor Comparisons
• Vs Core i7-12850HX
• Vs EPYC 7313P
• Vs Xeon Gold 6248R
• Vs EPYC 7313
• Vs Ryzen 9 3950X
• Vs Xeon W-3275M
• Vs Ryzen 9 5900X
• Vs EPYC 7343
• Vs Ryzen Threadripper PRO 3955WX
• Vs EPYC 73F3
• Vs EPYC 7272
• Vs Core i5-13500
• Vs Core i7-12700KF
• Vs Core i7-12700K
• Vs EPYC 7452
• Vs EPYC 7413
• Vs Ryzen 9 5950X
• Vs Ryzen 5 7600X
• Vs EPYC 7443
• Vs EPYC 7453
• Vs EPYC 7443P
• Vs Core i9-12900TE
• Vs Core i9-12900E
• Vs Core i9-12900T
• Vs EPYC 74F3
• Vs Ryzen 7 7700X
• Vs Core i9-12900
• Vs Core i9-12900F
• Vs EPYC 7502
• Vs EPYC 7513
• Vs Core i5-12600KF
• Vs Core i5-12600K
• Vs Core i7-12800H
• Vs Core i5-13400
• Vs Xeon Gold 6242R
• Vs Ryzen 9 PRO 6950H
• Vs Ryzen Threadripper PRO 3945WX
• Vs Ryzen 9 5900
• Vs Apple M1 Max
• Vs EPYC 72F3
• Vs Core i7-12800HL
• Vs Ryzen 9 PRO 6950HS
• Vs Xeon Platinum 8260M
• Vs Core i9-10980XE
• Vs Core i7-12700HL
• Vs Ryzen 7 PRO 6850H
• Vs Ryzen 9 5800X
• Vs Ryzen 9 3900XT
• Vs Ryzen 7 PRO 6850HS
• Vs Ryzen 9 3900X
• Vs Core i7-12700
• Vs Ryzen 9 5800
• Vs Apple M1 Pro
• Vs Core i7-12700E
• Vs Core i7-12650HX
• Vs Ryzen Threadripper 2990WX
• Vs Core i7-12700F
• Vs Core i9-9980XE
• Vs Xeon W-3175X
• Vs Core i9-9990XE
• Vs Apple M1 Ultra
• Vs Apple M2
• Vs Core i9-12900HK
• Vs Core i5-13600KF
• Vs Core i9-12900HX
• Vs Core i9-12900K
• Vs Ryzen 9 7950X
• Vs Core i7-13700
• Vs Core i9-12900H
• Vs Ryzen 9 7900X
• Vs Core i5-13600K
• Vs Core i9-12900KF
• Vs Core i7-12700T
• Vs Core i9-13900K
• Vs Ryzen 5 PRO 6650HS
• Vs Core i9-11900KB
• Vs Ryzen 5 PRO 6650H
• Vs Core i7-13700K
• Vs Core i9-11900H
• Vs Ryzen 7 5800X
• Vs Ryzen 9 3900
• Vs Ryzen 9 PRO 3900
• Vs Core i9-13900KF
• Vs Ryzen Threadripper PRO 5965WX
• Vs Ryzen 7 PRO 6850U
• Vs Core i7-12700H
• Vs Core i9-11980HK
• Vs Core i7-13700KF
• Vs Core i9-12950HX
• Vs Core i3-13100
• Vs Core i9-13900KS
• Vs Ryzen 9 6980HS
• Vs Core i9-11900
• Vs Ryzen 7 5700G
• Vs Ryzen 7 5800X3D
• Vs Core i9-11900KF
• Vs Core i7-11700B
• Vs Core i7-12650H
• Vs Ryzen 7 Pro 5750G
• Vs Ryzen 9 6980HX
• Vs Ryzen 9 6900HX
• Vs Core i9-13900
• Vs Ryzen 7 Pro 5850U
• Vs Core i9-12900KS
• Vs Core i9-11950H
• Vs Core i9-11900K
• Vs Ryzen 9 5600X
• Vs Ryzen 9 6900HS
• Vs Ryzen 5 PRO 6650U
• Vs Ryzen Threadripper 3990X
• Vs Ryzen Threadripper PRO 3975WX
• Vs Ryzen Threadripper 3970X
• Vs Ryzen Threadripper 3960X
• Vs Ryzen 9 5980HX
• Vs Ryzen 5 6600H
• Vs Core i5-12400
• Vs Core i5-12490F
• Vs Core i7-11700KF
• Vs Core i9-11900F
• Vs Ryzen 7 6800HS
• Vs Core i7-11700F
• Vs Core i5-12600H
• Vs Core i9-11900T
• Vs Ryzen 7 6800H
• Vs Ryzen 7 5800H
• Vs Core i7-11700K
• Vs Ryzen 7 6800U
• Vs Core i5-12600HX
• Vs Ryzen 9 5980HS
• Vs Ryzen 7 5800HS
• Vs Core i5-12400F
• Vs Ryzen 5 6600U
• Vs Core i7-11700
• Vs Ryzen 5 6600HS
• Vs Ryzen 7 3800X
• Vs Ryzen 7 PRO 3700
• Vs Ryzen 9 5900HS
• Vs Core i5-12600
• Vs Ryzen 7 Pro 5750GE
• Vs Ryzen 9 5900HX
• Vs Core i5-12400T
• Vs Ryzen 7 3800XT
• Vs Ryzen 7 3700X
• Vs Ryzen 7 5825U
• Vs Ryzen 7 5800
• Vs Core i5-12500H
• Vs Core i9-10900K
• Vs Core i9-10850K
• Vs Core i5-12450H
• Vs Ryzen 5 5600G
• Vs Core i5-12600T
• Vs Ryzen 7 5700U
• Vs Ryzen 5 5600X
• Vs Core i7-11700T
• Vs Core i5-12450HX
• Vs Ryzen 7 5800U
• Vs Core i9-10900KF
• Vs Core i7-11850H
• Vs Ryzen 9 4900U
• Vs Core i3-12300T
• Vs Core i7-1270P
• Vs Core i3-12100
• Vs Ryzen 7 4700GE
• Vs Core i7-1260P
• Vs Core i5-12500T
• Vs Ryzen 7 Extreme Edition
• Vs Ryzen 7 PRO 4750G
• Vs Core i3-12100T
• Vs Core i5-1250P
• Vs Ryzen 9 4900HS
• Vs Ryzen 7 4800H
• Vs Ryzen 5 PRO 5675U
• Vs Ryzen 7 PRO 4700G
• Vs Core i3-12300
• Vs Ryzen 5 3600X
• Vs Ryzen 5 3600XT
• Vs Ryzen 5 PRO 5650G
• Vs Ryzen 5 PRO 5650GE
• Vs Ryzen 7 PRO 4750GE
• Vs Ryzen 7 PRO 5875U
• Vs Core i3-12100F
• Vs Core i5-12500
• Vs Ryzen 9 4900H
• Vs Ryzen 7 4700G
• Vs Ryzen 7 4800HS
• Vs Core i7-1280P
• Vs Apple M2 Max
• Vs Core i5-13600
• Vs Core i7-13700HX
• Vs Core i7-13700H
• Vs Core i9-13900HK
• Vs Core i5-13600HX
• Vs Ryzen 5 5600
• Vs Core i5-13500HX
• Vs Core i5-13600H
• Vs Core i5-13500H
• Vs Core i5-13505H
• Vs Core i5-13500T
• Vs Core i5-13400F
• Vs Core i5-13400T
• Vs Core i5-1345U