| | |
| --- | --- |
| | HiSilicon Kirin 9000 specs |
HiSilicon Kirin 9000 top level chipset is installed in mobile devices such as phones and tablets, date of announcement 2020. The CPU manufactured using 5 nm process technology. The chip has a octa-core configuration divided into four blocks. The first cluster ARM Cortex-A77 is the most high-performance with one core working at 3,13 GHz. The second block ARM Cortex-A72 has three cores running at 2.54 GHz. The third ARM Cortex-A55 has four cores working at 2.06 GHz. The SoC supports 64-bit data. Mali-G78 MP24 GPU is working with graphics.
Gadgets that have the Kirin 9000 installed can work in LTE and 5th generation networks. Modem Balong 5G allows you to download and send data at a speed 15000 MBit/s and 14000 MBit/s.
You can find out whether Kirin 9000 chip is good or bad by looking at testing data and comparisons with other processors.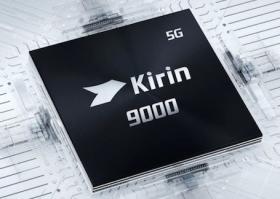 HiSilicon Kirin 9000 specifications
General Info
| | |
| --- | --- |
| Brand | HiSilicon |
| Name | Kirin 9000 |
| Model | Cortex-A77 |
| Release date | 2020 |
| CPU configuration | 1x3,13 GHz ARM Cortex-A77, 3x2.54 GHz ARM Cortex-A72, 4x2.06 GHz ARM Cortex-A55 |
| Instruction set architecture | ARMv8.2-A |
| Frequency | 3130 MHz |
| Cores | 8 |
| Word Size | 64 bit |
| Process | 5 nm |
| Transistor count | ? |
| Technologies | Yueyin 2.0, Hi6403, HiAI2.0 Architecture, FDD & TDD Spectrum Access, ISP 6.0, Coprocessor i7, GPU Turbo, AI Cambrian, SA & NSA Fusion Network Architecture |
| Neural Processing Unit | DaVinci NPU |
| Power consumption (TDP) | 6 W |
Graphics
| | |
| --- | --- |
| GPU | Mali-G78 MP24 |
| Frequency | 650 MHz |
| Cores | 24 |
| Process | 5 nm |
Memory
| | |
| --- | --- |
| Type | LPDDR5, LPDDR4x |
| Frequency | 1600 MHz |
| Max volume | 16 Gb |
| Internal type | eMMC 5.1 |
| Memory bandwidth | 44 GB/s |
| Memory bus | 4x 16 Bit |
Connectivity
| | |
| --- | --- |
| Modem | Balong 5G |
| Download speed | 15000 MBit/s |
| Upload speed | 14000 MBit/s |
| LTE Cat | Cat-21 DL/Cat-14 UL |
| Wi-Fi ranges | a/b/g/n/ac |
| Location | GPS,Galileo,Glonass,Beidou |
| Wi-Fi ver. | 6 |
| Bluetooth ver. | 5.2 |
Cameras
| | |
| --- | --- |
| Main camera max resolution | 128 MPix |
| Second camera max resolution | 64 and 64 MPix |
| Codecs | 4096 x 2160, max FPS 60. Codec: H.264, H.265/HEVC |
| Technologies | Improved dual 14-bit ISP 1000 Mp/s, Dual-Domain video noise reduction, DSP, BM3D DSLR-Level image noise reduction |
Display and Audio
Maximum Display resolution
2560 x 1600 pix
Video encoding
Resolution 4K, 2K, FullHD, max FPS 60. Codec: H.264, H.265/HEVC
Audio codecs
AIFF
CAF
MP4
AAC
WAV
MP3

• Devices lists
• Benchmarks
• PUBG mobile
• Fortnite Mobile
• 3DMark
• Antutu 8
• GeekBench 5 mobile


HiSilicon Kirin 9000 SoC Comparisons
• Vs Snapdragon 875
• Vs A13 Bionic
• Vs MediaTek Dimensity 1000C
• Vs HiSilicon Kirin 990E
• Vs HiSilicon Kirin 990 5G
• Vs Qualcomm Snapdragon 888
• Vs Samsung Exynos 2100
• Vs Qualcomm Snapdragon 865 Plus
• Vs HiSilicon Kirin 9000E
• Vs Apple A12Z Bionic
• Vs Samsung Exynos 1080
• Vs Apple A12X Bionic
• Vs Qualcomm Snapdragon 865
• Vs Apple A14 Bionic
• Vs MediaTek Dimensity 1000L
• Vs Samsung Exynos 990
• Vs MediaTek Dimensity 1000 Plus
• Vs HiSilicon Kirin 985
• Vs Apple A12 Bionic
• Vs MediaTek Dimensity 820
• Vs Samsung Exynos 9 9820
• Vs HiSilicon Kirin 820 5G
• Vs Samsung Exynos 9825
• Vs HiSilicon Kirin 980
• Vs Qualcomm Snapdragon 768G
• Vs MediaTek Dimensity 800
• Vs Qualcomm Snapdragon 690 5G
• Vs Qualcomm Snapdragon 855 Plus
• Vs MediaTek Dimensity 800U
• Vs Qualcomm Snapdragon 750G
• Vs MediaTek Dimensity 720 5G
• Vs MediaTek Helio G95
• Vs Samsung Exynos 2000
• Vs Qualcomm Snapdragon 870 5G
• Vs MediaTek Dimensity 1100
• Vs MediaTek Dimensity 1200
• Vs Qualcomm Snapdragon 775G
• Vs Apple M1
• Vs Mediatek Dimensity 900
• Vs Qualcomm Snapdragon 780G
• Vs Qualcomm Snapdragon 888 Pro
• Vs Qualcomm Snapdragon 898
• Vs Qualcomm Snapdragon 8cx
• Vs Qualcomm Snapdragon 8cx Gen 2
• Vs Qualcomm Snapdragon 8cx Gen 3
• Vs Qualcomm Snapdragon 778G
• Vs Qualcomm Snapdragon 888 Plus
• Vs Qualcomm Snapdragon 860
• Vs Mediatek Dimensity 810
• Vs Qualcomm Snapdragon 895
• Vs Qualcomm Snapdragon 695
• Vs Qualcomm Snapdragon 8 Gen 1
• Vs Mediatek Dimensity 1200 Max
• Vs MediaTek Kompanio 900T
• Vs MediaTek Dimensity 8100
• Vs MediaTek Dimensity 8000
• Vs MediaTek Dimensity 9000
• Vs MediaTek Kompanio 1300T
• Vs MediaTek Dimensity 1300
• Vs HiSilicon Kirin 9000L
• Vs Qualcomm Snapdragon 7 Gen 1
• Vs Qualcomm Snapdragon 778G+
• Vs Qualcomm Snapdragon G3x Gen 1
• Vs MediaTek Dimensity 1050
• Vs MediaTek Dimensity 930
• Vs Samsung Exynos 2200
• Vs Qualcomm Snapdragon 8 Plus Gen 1
• Vs MediaTek Dimensity 9000 Plus
• Vs MediaTek Dimensity 8100-Max
• Vs MediaTek Kompanio 800T
• Vs MediaTek Kompanio 1380
• Vs MediaTek Kompanio 828
• Vs MediaTek Dimensity 8000-Max
• Vs Qualcomm Snapdragon 8 Gen 2
• Vs Qualcomm Snapdragon 6 Gen 1
• Vs Apple A16 Bionic
• Vs Apple A15 Bionic