| | |
| --- | --- |
| | Rockchip Rockchip RK3562 specs |
Rockchip RK3562 entry level SoC designed for installation in mobile devices such as tablets and phones, SoC release year 2021. The CPU produced by a 22 nm process. The SoC has a quad-core configuration divided into blocks. The first block ARM Cortex-A55 is the most powerful with four cores working at 2.0 GHz. The CPU supports 64-bit data. Mali-G52 2EEMC2 GPU works with graphical data.
Devices that have the Rockchip RK3562 installed can work in 4th generation networks. Modem allows you to download and upload data at a speed 150 MBit/s and 50 MBit/s.
You can understand Rockchip RK3562 chip is good or bad by looking at testing results and comparisons with other processors.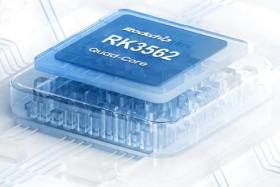 Rockchip RK3562 specifications
General Info
| | |
| --- | --- |
| Brand | Rockchip |
| Name | Rockchip RK3562 |
| Model | Cortex-A55 |
| Release date | 2023 |
| CPU configuration | 4x2.0 GHz ARM Cortex-A55 |
| Instruction set architecture | ARMv8-A |
| Frequency | 2000 MHz |
| Cores | 4 |
| Word Size | 64 bit |
| Process | 22 nm |
| Transistor count | ? |
| Neural Processing Unit | 1Tops@INT8, integrated high-performance AI accelerator RKNN NPU |
| Power consumption (TDP) | 7 W |
| L1 cache | 128 KB |
| L2 cache | 2 MB |
| L3 cache | 8 MB |
Graphics
| | |
| --- | --- |
| GPU | Mali-G52 2EEMC2 |
| Frequency | 820 MHz |
| Cores | 2 |
| Process | 16 nm |
Memory
| | |
| --- | --- |
| Type | LPDDR3, LPDDR4x |
| Frequency | 667 MHz |
| Max volume | 8 Gb |
| Internal type | Nor SFC, SPI Nand, eMMC 5.1 |
| Memory bandwidth | 16 GB/s |
| Memory bus | 4x 64 Bit |
Connectivity
| | |
| --- | --- |
| Download speed | 150 MBit/s |
| Upload speed | 50 MBit/s |
| LTE Cat | Cat-7 DL/Cat-4 UL |
| Wi-Fi ranges | b/g/n |
| Location | GPS,Galileo,Glonass,Beidou |
| Wi-Fi ver. | 4 |
| Bluetooth ver. | 4 |
Cameras
| | |
| --- | --- |
| Main camera max resolution | 16 MPix |
| Codecs | 1920 x 1080, max FPS 30. Codec: H.264 |
Display and Audio
| | |
| --- | --- |
| Maximum Display resolution | 1920 x 1080 pix |
| Video encoding | Resolution FullHD, max FPS 60. Codec: H.264 |

• Devices lists
• Benchmarks
• PUBG mobile
• Fortnite Mobile
• Antutu v10
• 3DMark
• GeekBench 6, 5 mobile


Rockchip RK3562 SoC Comparisons
• Vs Unisoc Tiger T616
• Vs Samsung Exynos 9611
• Vs HiSilicon Kirin 970
• Vs MediaTek Helio P60
• Vs MediaTek Helio P90
• Vs MediaTek Helio P65 (MT6768)
• Vs MediaTek Helio P95
• Vs Qualcomm Snapdragon 675
• Vs Unisoc Tiger T610
• Vs Qualcomm Snapdragon 835 MSM8998
• Vs Qualcomm Snapdragon 662
• Vs Qualcomm Snapdragon 710
• Vs MediaTek Helio G70
• Vs Qualcomm Snapdragon 712
• Vs Qualcomm Snapdragon 730
• Vs Qualcomm Snapdragon 720G
• Vs Qualcomm Snapdragon 730G
• Vs Unisoc Tiger T618
• Vs MediaTek Helio G80
• Vs Qualcomm Snapdragon 665
• Vs MediaTek Helio P70
• Vs Qualcomm Snapdragon 821 MSM8996 Pro
• Vs Qualcomm Snapdragon 460
• Vs Unisoc Tiger T606
• Vs Samsung Exynos 7 Octa 7885
• Vs HiSilicon Kirin 710A
• Vs HiSilicon Kirin 710F
• Vs HiSilicon Kirin 710
• Vs Qualcomm Snapdragon 820 MSM8996
• Vs Samsung Exynos 850
• Vs MediaTek Helio G37
• Vs Samsung Exynos 7 Octa 7884
• Vs Qualcomm Snapdragon 660 MSM8976 Plus
• Vs MediaTek Helio G35
• Vs Samsung Exynos 7 7904
• Vs Unisoc Tiger T310
• Vs MediaTek Helio G25
• Vs Qualcomm Snapdragon 636
• Vs MediaTek Helio X27 (MT6797X)
• Vs HiSilicon Kirin 960
• Vs MediaTek Helio A25
• Vs Qualcomm Snapdragon 860
• Vs MediaTek Dimensity 6100 Plus
• Vs Samsung Exynos 1380
• Vs Qualcomm Snapdragon 4 Gen 1
• Vs Samsung Exynos 1280
• Vs Samsung Exynos 1330
• Vs MediaTek Dimensity 6080
• Vs MediaTek Helio G99
• Vs Unisoc Tiger T760
• Vs Qualcomm Snapdragon 685
• Vs Unisoc T750 Tanggula
• Vs Unisoc Tiger T612
• Vs Allwinner A523
• Vs MediaTek Helio G36
• Vs Unisoc SC9863A1
• Vs Rockchip RK3566
• Vs Rockchip RK3126C
• Vs Rockchip RK3326S
• Vs MediaTek Dimensity 6020
• Vs Unisoc Tiger T603