Intel Core i9-10980XE at 3 GHz is a Top Level CPU 10th generation with Cascade Lake core name, designed for Desktops with FCLGA2066 socket, CPU release date October 01, 2019. The processor produced by a 14 nm process. Intel Core i9-10980XE has 18 cores and 36 Threads operating at a frequency of 3 GHz (Turbo mode - 4.8 GHz) with typical Thermal Design Power 165 W.
The others technical specifications and some more information about the CPU like Overclocking, Unlocked or not, Cashes Size, Memory Specification/Type, Die Size, Architecture, 64 Bit support and other can be found below.
You can find out whether Intel Core i9-10980XE is bad or good by looking at testing data and comparisons with other CPUs.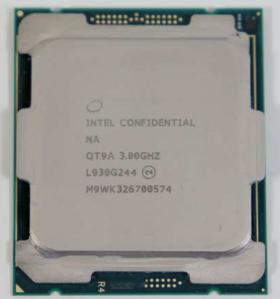 Intel Core i9-10980XE specifications
General Info
Name
Intel Core i9-10980XE
Core name
Cascade Lake
Generation
10th
Architecture
x86
Release date
October 01, 2019
Price
1024 USD
Frequency
3 GHz
Turbo frequency
4.8 GHz
Cores
18
Threads
36
Unlocked
Yes
Socket
FCLGA2066
Bus Speed
8 GT/s DMI3
Thermal Design Power (TDP)
165 W
Max. Temperature
86 &degC
Hyper-threading
Yes
L3 Cache
24.75 MB
Cache
24.75 MB
Instruction Set Extensions
Intel AVX2
Intel AVX-512
Intel SSE4.2
Intel SSE4.1
Word Size
64 bit
TSMC FinFET process (Lithography)
14 nm
Transistor count
9200 million
Technologies
Intel Turbo Boost Technology
Intel 64
Instruction Set Extensions
Intel Turbo Boost Max Technology 3.0
Enhanced Intel SpeedStep Technology
Intel Deep Learning Boost (Intel DL Boost)
Intel Optane Memory Supported
# of AVX-512 FMA Units
Intel Virtualization Technology for Directed I/O (VT-d)
Intel Virtualization Technology (VT-x)
Intel Hyper-Threading Technology
Security
Execute Disable Bit
Intel AES New Instructions
Performance
| | |
| --- | --- |
| Cinebench R15 Multi-Core | 3800 |
| Cinebench R15 Single-Core | 211 |
| Cinebench R20 Multi-Core | 8848 |
| Cinebench R20 Single-Core | 480 |
| Cinebench R23 Multi-Core | 24309 |
| Cinebench R23 Single-Core | 1191 |
| GeekBench 5.2 Multi-Core | 20280 |
| GeekBench 5.2 Single-Core | 1417 |
| PassMark | 34005 |
| Single Thread Mark | 2626 |
Memory
| | |
| --- | --- |
| Type | DDR4-2933 |
| Memory Channels | 4 |
| Memory Speed | 94 GB/s |
| Memory Size | 256 Gb |

• Cinebench r15 score
• Cinebench r20 score
• Cinebench r23 score
• GeekBench 5 score
• Fortnite gaming benchmark
• Roblox gaming benchmark
• Valorant gaming benchmark
• Cyberpunk 2077 gaming benchmark
• Apex Legends gaming benchmark
• Call of Duty: Warzone gaming benchmark
• Overwatch gaming benchmark
• Red Dead Redemption 2 gaming benchmark
• DOOM Eternal gaming benchmark
• Assassin's Creed gaming benchmark
• GTA 5 gaming benchmark
• PUBG gaming benchmark


Versus Battle of the Processors
• Ryzen Threadripper PRO 3995WX Vs Core i9-10980XE
• Core i9-13900K Vs Core i9-10980XE
• EPYC 7763 Vs Core i9-10980XE
• EPYC 7713P Vs Core i9-10980XE
• EPYC 75F3 Vs Core i9-10980XE
• EPYC 7713 Vs Core i9-10980XE
• EPYC 7742 Vs Core i9-10980XE
• Vs Ryzen Threadripper 3970X
• Ryzen Threadripper PRO 3975WX Vs Core i9-10980XE
• EPYC 7663 Vs Core i9-10980XE
• EPYC 7543P Vs Core i9-10980XE