| | |
| --- | --- |
| | Qualcomm Snapdragon 685 specs |
Qualcomm Snapdragon 685 is a entry level SoC designed for mobile devices such as smartphones and tablets, released in 2023. The processor produced by a 6 nm process. The processor has a eight cores divided into clusters. The first cluster Kryo 265 is the most high-performance with eight cores running at 2.8 GHz. The chipset has support for 64-bit data. Adreno 610 GPU is responsible for operating with graphical data.
Gadgets that have the Qualcomm Snapdragon 685 installed can work in 4G networks. Modem Qualcomm Snapdragon X11 LTE modem allows you to download and upload data at a speed 390 MBit/s and 150 MBit/s.
To understand Qualcomm Snapdragon 685 SoC is good or bad by looking at comparisons with other processors and testing data.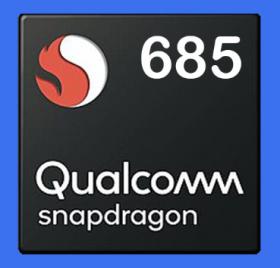 Qualcomm Snapdragon 685 specifications
General Info
| | |
| --- | --- |
| Brand | Qualcomm |
| Name | Snapdragon 685 |
| Model | SM6225-AD |
| Release date | 2023 |
| CPU configuration | 8x2.8 GHz Kryo 265 |
| Instruction set architecture | ARMv8-A |
| Frequency | 2800 MHz |
| Cores | 8 |
| Word Size | 64 bit |
| Process | 6 nm |
| Transistor count | ? |
| Technologies | Qualcomm All-Ways Aware technology,Qualcomm Aqstic,Qualcomm Hexagon 686 DSP,Qualcomm Signal Boost,Qualcomm apt, Bluetooth 5.0, Envelope tracking technology,High-power transmit (HPUE), Quick Charge 3.0, Qualcomm Hexagon Vector eXtensions (HVX), Multi-frame Noise Reduction (MFNR), HEIC photo capture, Low light capture |
| Security | HW/SW storage security, Qualcomm Trusted Execution Environment (TEE), Debug Security, HW Crypto Cores, Qualcomm Content Protection Framework, HW/SW Key Management, Widevine L1 V15 DRM, Trusted UI Framework, Secure Boot |
| Power consumption (TDP) | 5 W |
Graphics
| | |
| --- | --- |
| GPU | Adreno 610 |
| Frequency | 750 MHz |
| Process | 11 nm |
Memory
| | |
| --- | --- |
| Type | LPDDR4x (Dual Channel) |
| Frequency | 2133 MHz |
| Max volume | 8 Gb |
| Internal type | eMMC 5.1 |
| Memory bandwidth | 22 GB/s |
| Memory bus | 2x 16 Bit |
Connectivity
| | |
| --- | --- |
| Modem | Qualcomm Snapdragon X11 LTE modem |
| Download speed | 390 MBit/s |
| Upload speed | 150 MBit/s |
| LTE Cat | Cat-12 DL/Cat-11 UL |
| Wi-Fi ranges | a/b/g/n/ac |
| Location | Beidou, Galileo, GLONASS, NavIC, GPS, QZSS |
| Wi-Fi ver. | 5 |
| Bluetooth ver. | 5 |
Cameras
| | |
| --- | --- |
| Main camera max resolution | 108 MPix |
| Second camera max resolution | 13 and 13 MPix |
| Codecs | 3840 x 2160, max FPS 120. Codec: H.264/AVC,H.265/HEVC, VP8, VP9 |
| Technologies | Dual Phase Detection Autofocus (PDAF), High quality video capture with Motion Compensated Temporal Filterin, Zero Shutter, Qualcomm Clear Sight, Hybrid Autofocus, 2xImage Signal Processor (ISP) 14-bit |
Display and Audio
Maximum Display resolution
2520 x 1080 pix
Video encoding
Resolution 4K (Ultra HD), 2K, FullHD, max FPS 60. Codec: H.264/AVC,H.265/HEVC, VP8, VP9
Audio codecs
MP3
AIFF
MP4
CAF
WAV

• Devices lists
• Benchmarks
• PUBG mobile
• Fortnite Mobile
• Antutu 8
• 3DMark
• GeekBench 5 mobile


Qualcomm Snapdragon 685 SoC Comparisons
• Vs Qualcomm Snapdragon 855
• Vs Qualcomm Snapdragon 765G
• Vs MediaTek Helio G95
• Vs Qualcomm Snapdragon 480 Plus
• Vs MediaTek Dimensity 720 5G
• Vs Qualcomm Snapdragon 750G
• Vs MediaTek Helio G96
• Vs MediaTek Dimensity 800U
• Vs Qualcomm Snapdragon 855 Plus
• Vs Qualcomm Snapdragon 690 5G
• Vs MediaTek Dimensity 800
• Vs Qualcomm Snapdragon 768G
• Vs HiSilicon Kirin 980
• Vs MediaTek Helio G99
• Vs HiSilicon Kirin 820 5G
• Vs Qualcomm Snapdragon 695
• Vs Mediatek Dimensity 810
• Vs Qualcomm Snapdragon 732G
• Vs MediaTek Dimensity 700
• Vs Qualcomm Snapdragon 850
• Vs Qualcomm Snapdragon 845 SDM845
• Vs MediaTek Helio G90T
• Vs Qualcomm Snapdragon 680
• Vs Qualcomm Snapdragon 480 5G
• Vs MediaTek Helio G88
• Vs HiSilicon Kirin 810
• Vs Qualcomm Snapdragon 7c Gen 2
• Vs Samsung Exynos 980
• Vs MediaTek Helio G85
• Vs Unisoc Tiger T612
• Vs MediaTek Helio G80
• Vs Unisoc Tiger T618
• Vs Qualcomm Snapdragon 730G
• Vs Qualcomm Snapdragon 720G
• Vs Qualcomm Snapdragon 730
• Vs Google Tensor G2
• Vs Apple A15 Bionic
• Vs MediaTek Dimensity 1300
• Vs MediaTek Dimensity 8100-Max
• Vs Google Tensor
• Vs MediaTek Dimensity 8100-Ultra
• Vs MediaTek Dimensity 8100
• Vs MediaTek Dimensity 8000
• Vs Qualcomm Snapdragon 7 Gen 1
• Vs MediaTek Dimensity 8050
• Vs Qualcomm Snapdragon 780G
• Vs Qualcomm Snapdragon 6 Gen 1
• Vs Qualcomm Snapdragon 870 5G
• Vs MediaTek Kompanio 1300T
• Vs Mediatek Dimensity 1200 Max
• Vs MediaTek Dimensity 7200
• Vs MediaTek Kompanio 1380
• Vs HiSilicon Kirin 9000L
• Vs Qualcomm Snapdargon 782G
• Vs MediaTek Dimensity 1100
• Vs Qualcomm QCS6490
• Vs MediaTek Dimensity 7050
• Vs Qualcomm Snapdragon 4 Gen 2
• Vs Mediatek Dimensity 920
• Vs MediaTek Dimensity 1000 Plus
• Vs MediaTek Dimensity 930
• Vs MediaTek Dimensity 7020
• Vs Unisoc Tiger T820
• Vs Qualcomm Snapdragon 8cx Gen 3
• Vs MediaTek Kompanio 900T
• Vs MediaTek Kompanio 820
• Vs MediaTek Kompanio 800T
• Vs Samsung Exynos 1380
• Vs Qualcomm Snapdragon 4 Gen 1
• Vs Samsung Exynos 1280
• Vs Samsung Exynos 1330
• Vs MediaTek Dimensity 6080
• Vs MediaTek MT8188J
• Vs MediaTek Dimensity 6020
• Vs MediaTek Dimensity 8000-Max
• Vs Qualcomm Snapdragon 888
• Vs MediaTek Dimensity 8020
• Vs MediaTek Dimensity 1200
• Vs MediaTek Dimensity 1050
• Vs MediaTek Dimensity 1080
• Vs Qualcomm Snapdragon 778G+
• Vs Qualcomm Snapdragon 775G
• Vs Qualcomm Snapdragon 778G
• Vs Mediatek Dimensity 900
• Vs MediaTek Kompanio 828
• Vs Qualcomm Snapdragon 8 Gen 1
• Vs Qualcomm 215
• Vs Qualcomm 205
• Vs Unisoc Tiger T760
• Vs Unisoc T750 Tanggula