| | |
| --- | --- |
| | |
Google Tensor G3 top level chipset is installed in mobile gadgets such as smartphones and tablets, released in 2023. The CPU created by a 4 nm process. The processor has a octa-core configuration divided into three blocks. The first block Cortex-X3 is the fastest with one core running at 3.0 GHz. The second block Cortex-A715 has four cores running at 2.34 GHz. The third cluster Cortex-A510 has four cores running at 2.15 GHz. The chipset has support for 64-bit data. Mali-G715 MP9 GPU is responsible for working with graphical data.
Devices that have the Tensor G3 can work in 4G and 5th generation networks. Maximum speed of download and upload are 10150 MBit/s and 9500 MBit/s with the Exynos Modem 5223 modem.
To understand Tensor G3 chip is good or bad from benchmark results and comparisons with other processors.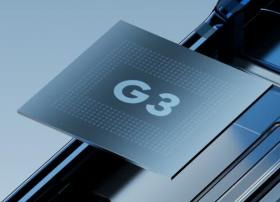 Google Tensor G3 specifications
General Info
| | |
| --- | --- |
| Brand | Google |
| Name | Tensor G3 |
| Model | Zuma |
| Release date | 2023 |
| CPU configuration | 1x3.0 GHz Cortex-X3, 4x2.34 GHz Cortex-A715, 4x2.15 GHz Cortex-A510 |
| Instruction set architecture | ARMv8.2-A |
| Frequency | 3000 MHz |
| Cores | 8 |
| Word Size | 64 bit |
| Process | 4 nm |
| Transistor count | ? |
| Technologies | Physically unclonable function (PUF), Advanced MFC, Heterogeneous System Architecture, Exynos ModAP, Vision Processing Unit |
| Security | Tensor security, Titan M3, Trusty OS, TrustZone |
| Neural Processing Unit | Abrolhos TPU |
| Power consumption (TDP) | 10 W |
| L1 cache | 1 MB |
| L2 cache | 2 MB |
| L3 cache | 8 MB |
Graphics
| | |
| --- | --- |
| GPU | Mali-G715 MP9 |
| Frequency | 750 MHz |
| Cores | 9 |
| Process | 5 nm |
Memory
| | |
| --- | --- |
| Type | LPDDR5 (Quad Channel) |
| Frequency | 3200 MHz |
| Max volume | 16 Gb |
| Internal type | UFS 3.1 |
| Memory bandwidth | 51.2 GB/s |
| Memory bus | 4x 16 Bit |
Connectivity
| | |
| --- | --- |
| Modem | Exynos Modem 5223 |
| Download speed | 10150 MBit/s |
| Upload speed | 9500 MBit/s |
| LTE Cat | Cat-27 DL/Cat-21 UL |
| Wi-Fi ranges | MU-MIMO (Uplink and Downlink), 8x8 sounding, 802.11a/b/g, Wi-Fi 6E, Wi-Fi 6, 160 M, Wi-Fi 5, 802.11n |
| Location | Dual frequency GNSS, GPS, Galileo, NavIC enabled, QZSS, GLONASS, GNSS, NavIC, Beidou, SBAS |
| Wi-Fi ver. | 6 |
| Bluetooth ver. | 5 |
Cameras
| | |
| --- | --- |
| Main camera max resolution | 360 MPix |
| Second camera max resolution | 64 and 64 MPix |
| Codecs | 4096 x 2160, max FPS 60. Codec: Dolby Vision, H.264/AVC,H.265/HEVC, HDR10+, HLG, HDR10, AV1 BigWave |
| Technologies | PDAF, Slow Motion Video Capture: 720p @ 960 FPS, 10-bit HDR HEIF photo capture, Multi-frame Noise Reduction (MFNR), Dual ISP, Smart WDR, Low light photography architecture, Real-time object classification, Triple 14-bit CV-ISPs, Hardware accelerator for computer vision (CV-ISP) |
Display and Audio
Maximum Display resolution
4096 x 2160 pix
Video encoding
Resolution 8K, 4K (Ultra HD), 2K, FullHD, max FPS 60. Codec: Dolby Vision, H.264/AVC,H.265/HEVC, HDR10+, HLG, HDR10, AV1 BigWave
Audio codecs
MP3
WAV
MP4
CAF
AIFF
AAC

• Devices lists
• Benchmarks
• PUBG mobile
• Fortnite Mobile
• Antutu v10
• 3DMark
• GeekBench 6, 5 mobile


Google Tensor G3 SoC Comparisons
• Vs Qualcomm Snapdragon 8 Plus Gen 1
• Vs Qualcomm Snapdragon 8 Gen 2
• Vs Apple M1
• Vs Apple M2
• Vs MediaTek Dimensity 9000 Plus
• Vs MediaTek Dimensity 9000
• Vs Qualcomm Snapdragon 8 Gen 1
• Vs Apple A16 Bionic
• Vs MediaTek Dimensity 8200
• Vs Qualcomm Snapdragon 888 Plus
• Vs Google Tensor G2
• Vs Qualcomm Snapdragon 888
• Vs Apple A15 Bionic
• Vs Google Tensor
• Vs MediaTek Dimensity 8100
• Vs Apple A12Z Bionic
• Vs Qualcomm Snapdragon 870 5G
• Vs MediaTek Dimensity 9300
• Vs Qualcomm Snapdragon 8 Gen 3
• Vs MediaTek Dimensity 9200 Plus
• Vs Apple A17 Bionic
• Vs MediaTek Dimensity 9200
• Vs Qualcomm Snapdragon G3x Gen 1
• Vs MediaTek Dimensity 8300
• Vs Qualcomm Snapdragon 898
• Vs Qualcomm Snapdragon 7+ Gen 2
• Vs Samsung Exynos 2200
• Vs Qualcomm Snapdragon 895
• Vs Qualcomm Snapdragon 888 Pro
• Vs Qualcomm Snapdragon 875
• Vs MediaTek Dimensity 1300
• Vs MediaTek Dimensity 8000
• Vs Qualcomm Snapdragon 7 Gen 1
• Vs MediaTek Dimensity 7200 Ultra
• Vs MediaTek Dimensity 8100-Max
• Vs MediaTek Dimensity 8100-Ultra
• Vs MediaTek Dimensity 8050
• Vs Qualcomm Snapdragon 780G
• Vs MediaTek Kompanio 1300T
• Vs Mediatek Dimensity 1200 Max
• Vs MediaTek Dimensity 7200
• Vs MediaTek Kompanio 1380
• Vs MediaTek Dimensity 8000-Max
• Vs Qualcomm Snapdragon 6 Gen 1
• Vs MediaTek Dimensity 8020
• Vs MediaTek Dimensity 7050
• Vs Qualcomm Snapdragon 4 Gen 2
• Vs MediaTek Dimensity 1050
• Vs MediaTek Dimensity 1080
• Vs MediaTek Dimensity 7020
• Vs Unisoc Tiger T760
• Vs HiSilicon KIRIN 9000S
• Vs MediaTek Dimensity 6100 Plus
• Vs MediaTek Dimensity 7030
• Vs Qualcomm Snapdragon 7s Gen 2