| | |
| --- | --- |
| | Intel Xeon Gold 6248R specs |
Intel Xeon Gold 6248R at 3 GHz Top Level processor 2nd generation with Cascade Lake core name, designed for work in Servers with FCLGA3647 socket, CPU release date April 01, 2020. The processor manufactured using 14 nm process technology. Intel Xeon Gold 6248R has 24 cores and 48 Threads working at 3 GHz (Turbo mode - 4 GHz) with typical Thermal Design Power 205 W.
The others technical specifications and more information about the processor like Unlocked or not, Architecture, Memory Specification/Type, Cashes Size, Overclocking, Die Size, 64 Bit support and other can be found further down the text.
To understand Intel Xeon Gold 6248R is good or bad from comparisons with other CPUs and testing results.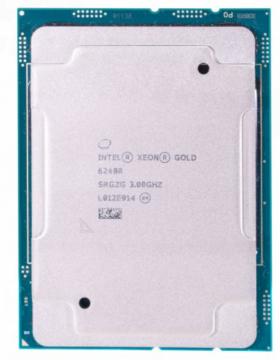 Intel Xeon Gold 6248R specifications
General Info
Name
Intel Xeon Gold 6248R
Core name
Cascade Lake
Generation
2nd
Architecture
x86
Release date
April 01, 2020
Price
2717 USD
Frequency
3 GHz
Turbo frequency
4 GHz
Cores
24
Threads
48
Socket
FCLGA3647
Thermal Design Power (TDP)
205 W
Hyper-threading
Yes
L3 Cache
35.75 MB
Instruction Set Extensions
Intel AVX2
Intel AVX-512
Intel AVX
Intel SSE4.2
Word Size
64 bit
TSMC FinFET process (Lithography)
14 nm
Transistor count
7510 million
Technologies
Intel Hyper-Threading Technology
Intel vPro Platform Eligibility
Intel Speed Select Technology - Performance Profile
Instruction Set Extensions
Intel VT-x with Extended Page Tables (EPT)
Intel Deep Learning Boost (Intel DL Boost)
Intel Transactional Synchronization Extensions
Intel Turbo Boost Max Technology 3.0
Intel Turbo Boost Technology
Intel Speed Shift Technology
Intel Virtualization Technology for Directed I/O (VT-d)
Intel Volume Management Device (VMD)
Intel Resource Director Technology (Intel RDT)
Intel 64
Intel Virtualization Technology (VT-x)
Enhanced Intel SpeedStep Technology
Intel Speed Select Technology - Base Frequency
# of AVX-512 FMA Units

Security
Intel Trusted Execution Technology
Intel AES New Instructions
Mode-based Execute Control (MBE)
Execute Disable Bit
Intel Run Sure Technology
Performance
| | |
| --- | --- |
| Cinebench R15 Multi-Core | 6636 |
| Cinebench R15 Single-Core | 226 |
| Cinebench R20 Multi-Core | 10753 |
| Cinebench R20 Single-Core | 426 |
| Cinebench R23 Multi-Core | 27371 |
| Cinebench R23 Single-Core | 1080 |
| GeekBench 5.2 Multi-Core | 36095 |
| GeekBench 5.2 Single-Core | 990 |
| PassMark | 38405 |
| Single Thread Mark | 2247 |
Memory
| | |
| --- | --- |
| Type | DDR4-2933 |
| Memory Channels | 6 |
| Memory Size | 1 Gb |

• Cinebench r15 score
• Cinebench r20 score
• Cinebench r23 score
• GeekBench 5 score


Intel Xeon Gold 6248R Processor Comparisons
• Vs EPYC 7452
• Vs EPYC 7313
• Vs Ryzen 9 3950X
• Vs Xeon W-3275M
• Vs Ryzen 9 5900X
• Vs EPYC 7343
• Vs Ryzen Threadripper PRO 3955WX
• Vs EPYC 73F3
• Vs EPYC 7413
• Vs Ryzen 9 5950X
• Vs EPYC 7443
• Vs EPYC 7453
• Vs EPYC 7443P
• Vs EPYC 74F3
• Vs EPYC 7502
• Vs EPYC 7513
• Vs EPYC 7543
• Vs EPYC 7643
• Vs EPYC 7543P
• Vs EPYC 7663
• Vs Ryzen Threadripper PRO 3975WX
• Vs Ryzen Threadripper 3970X
• Vs EPYC 7742
• Vs EPYC 7713
• Vs EPYC 75F3
• Vs EPYC 7713P
• Vs EPYC 7763
• Vs EPYC 7702
• Vs EPYC 7313P
• Vs Xeon Gold 6242R
• Vs Ryzen Threadripper PRO 3945WX
• Vs Ryzen 9 5900
• Vs EPYC 72F3
• Vs Xeon Platinum 8260M
• Vs Core i9-10980XE
• Vs Ryzen 9 5800X
• Vs Ryzen 9 3900XT
• Vs Ryzen 9 3900X
• Vs Ryzen 9 5800
• Vs Ryzen Threadripper 2990WX
• Vs Core i9-9980XE
• Vs Xeon W-3175X
• Vs Core i9-9990XE
• Vs Ryzen 9 PRO 3900
• Vs Core i9-9960X
• Vs Ryzen 9 3900
• Vs Ryzen Threadripper 2950X
• Vs Xeon Gold 6246R
• Vs Xeon W-3245
• Vs Core i9-7980XE
• Vs Core i9-10940X
• Vs Ryzen Threadripper 2970WX
• Vs Apple M1X
• Vs Ryzen 7 5800X
• Vs Ryzen 7 Pro 5750G
• Vs Xeon W-2275
• Vs Core i9-9940X
• Vs Core i9-11900K
• Vs Core i9-11900H
• Vs Core i9-11900KB
• Vs Core i9-11950H
• Vs Core i9-11980HK
• Vs Core i7-11700B
• Vs EPYC 7272
• Vs Core i9-12900K
• Vs Core i9-12900HK
• Vs Core i9-12900H
• Vs Core i7-12800H
• Vs Core i9-12900KF
• Vs Core i9-12900T
• Vs Core i9-12900TE
• Vs Core i7-12700E
• Vs Core i9-12900F
• Vs Core i9-12900E
• Vs Core i9-12900
• Vs Core i7-12700
• Vs Core i7-12700F
• Vs Core i7-12700TE
• Vs Core i7-12700T
• Vs Core i7-12700HE
• Vs Core i7-12700K
• Vs Core i7-12700KF
• Vs Core i5-12600KF
• Vs Core i5-12600K
• Vs Ryzen 9 PRO 6950H
• Vs Ryzen 7 PRO 6850U
• Vs Ryzen 9 PRO 6950HS
• Vs Ryzen 7 PRO 6850H
• Vs Ryzen 7 PRO 6850HS
• Vs Core i7-12700HL
• Vs Core i7-12650HX
• Vs Core i7-12800HL
• Vs Core i7-12850HX
• Vs Ryzen 9 7900X
• Vs Ryzen 9 7700X
• Vs Ryzen 9 7600X
• Vs Core i5-13500
• Vs Core i5-13400
• Vs Apple M1 Pro
• Vs Apple M1 Max
• Vs Apple M2 Pro
• Vs Apple M2 Max
• Vs Core i5-13600
• Vs Core i7-13700HX