| | |
| --- | --- |
| | |
Apple M1 Ultra at 3.2 GHz is a Top Level processor 1st generation with 16x Firestorm and 4x Icestorm core name, designed for AppleMac Studio (2022) with M1 socket, CPU release date April 09, 2022. The processor produced by a 5 nm process. Apple M1 Ultra has 20 cores and 20 Threads operating at a frequency of 3.2 GHz with typical Thermal Design Power 20 W.
The rest of the technical specifications and some more information about the CPU like Cashes Size, Die Size, Architecture, Memory Specification/Type, Overclocking, Unlocked or not, 64 Bit support and other can be found below.
To understand Apple M1 Ultra is bad or good from benchmark data and comparisons with other CPUs.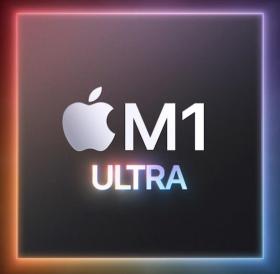 Apple M1 Ultra specifications
General Info
| | |
| --- | --- |
| Name | Apple M1 Ultra |
| Core name | 16x Firestorm and 4x Icestorm |
| Generation | 1st |
| Architecture | hybrid (big.LITTLE) |
| Release date | April 09, 2022 |
| Instruction set architecture | ARMv8.5-A |
| Frequency | 3.2 GHz |
| Min frequency | 2 GHz |
| Cores | 20 |
| Threads | 20 |
| Socket | M1 |
| Thermal Solution | No |
| Thermal Design Power (TDP) | 20 W |
| Min TDP | 14 W |
| Max. Temperature | 95 &degC |
| L3 Cache | 96MB |
| Word Size | 64 bit |
| TSMC FinFET process (Lithography) | 5 nm |
| Transistor count | 114000 million |
| Supported OS | macOS |
| Part numbers | APL1W06 |
Performance
| | |
| --- | --- |
| Cinebench R15 Multi-Core | 3252 |
| Cinebench R15 Single-Core | 555 |
| Cinebench R20 Multi-Core | 5583 |
| Cinebench R20 Single-Core | 1103 |
| Cinebench R23 Multi-Core | 21959 |
| Cinebench R23 Single-Core | 4240 |
| GeekBench 6, 5.2 Multi-Core | 24642 |
| GeekBench 6, 5.2 Single-Core | 1637 |
| PassMark | 62194 |
| Single Thread Mark | 9611 |
Graphics
| | |
| --- | --- |
| GPU | Apple M1 GPU |
| Frequency | 3200 MHz |
| Cores | 64 |
| Max Displays | 3 |
Memory
| | |
| --- | --- |
| Type | LPDDR5 - Up to 6400MHz |
| Frequency | 6400 MHz |
| Memory Channels | 1024 |
| Memory Speed | 818 GByte/s |
| Memory Size | 128 Gb |

• Cinebench r15 score
• Cinebench r20 score
• Cinebench r23 score
• GeekBench 6, 5.2 score


Apple M1 Ultra Processor Comparisons
• Vs Core i7-13700
• Vs Ryzen Threadripper PRO 3975WX
• Vs Ryzen Threadripper 3970X
• Vs Core i9-12900HX
• Vs Core i7-13700KF
• Vs Core i9-12950HX
• Vs Core i7-13700K
• Vs EPYC 7742
• Vs EPYC 7713
• Vs EPYC 75F3
• Vs EPYC 7713P
• Vs EPYC 7763
• Vs EPYC 7702
• Vs Core i9-13900KF
• Vs Core i9-13900
• Vs Core i9-13900K
• Vs Ryzen 9 7950X
• Vs Core i9-12900KS
• Vs Ryzen Threadripper 3990X
• Vs Ryzen Threadripper PRO 5965WX
• Vs Core i9-13900KS
• Vs Ryzen Threadripper PRO 3995WX
• Vs Ryzen Threadripper PRO 5975WX
• Vs Ryzen Threadripper PRO 5995WX
• Vs EPYC 7663
• Vs EPYC 7543P
• Vs Core i9-12900K
• Vs Core i9-12900H
• Vs Core i5-13600K
• Vs EPYC 7643
• Vs Core i9-12900HK
• Vs Core i5-13600KF
• Vs Ryzen Threadripper 3960X
• Vs Core i9-12900KF
• Vs EPYC 7543
• Vs Ryzen 9 7900X
• Vs EPYC 7513
• Vs EPYC 7502
• Vs Core i9-12900F
• Vs Core i9-12900
• Vs Ryzen 7 7700X
• Vs EPYC 74F3
• Vs Core i9-12900E
• Vs Core i9-12900T
• Vs Core i9-12900TE
• Vs EPYC 7443P
• Vs EPYC 7453
• Vs EPYC 7443
• Vs Ryzen 5 7600X
• Vs Ryzen 9 5950X
• Vs EPYC 7413
• Vs EPYC 7452
• Vs Core i7-12700K
• Vs Core i7-12700KF
• Vs Ryzen Threadripper PRO 3955WX
• Vs Ryzen 9 3900XT
• Vs Core i5-12490F
• Vs Core i5-13500
• Vs Ryzen 9 5900
• Vs Core i5-12400
• Vs Core i5-12600KF
• Vs Ryzen 9 PRO 3900
• Vs Ryzen 9 5800X
• Vs Ryzen 9 5800
• Vs Ryzen 9 3900X
• Vs Core i7-12700F
• Vs Ryzen 9 3900
• Vs Core i5-12600K
• Vs Ryzen 9 3950X
• Vs Ryzen 7 5800X
• Vs Ryzen 9 5900X
• Vs Core i7-12700
• Vs Core i5-13400
• Vs Apple M2
• Vs Apple M1 Max
• Vs Apple M1 Pro
• Vs Apple M1X
• Vs Apple M1
• Vs Apple M2 Pro
• Vs Apple M2 Max
• Vs Core i5-13600
• Vs Core i7-13700H
• Vs Core i9-13900HK
• Vs Core i9-13900HX
• Vs Core i5-13600HX
• Vs Core i9-13950HX
• Vs Ryzen 5 5600
• Vs Ryzen 9 7900
• Vs Ryzen 7 7700
• Vs Ryzen 5 7600
• Vs Core i7-1360P
• Vs Core i5-13500HX
• Vs Core i9-13980HX
• Vs Core i9-13900T
• Vs Core i9-13900F
• Vs Core i7-13700F
• Vs Core i7-13700T
• Vs Core i5-13600T
• Vs Core i5-13600H
• Vs Core i5-13500H
• Vs Core i5-13505H
• Vs Core i5-13500T
• Vs Core i5-13400F
• Vs Core i5-13400T
• Vs Core i5-1345U
• Vs Core i3-13100T
• Vs Core i3-13100F
• Vs Ryzen 7 5700X
• Vs Ryzen 5 5500
• Vs Core i3-13300
• Vs Core i3-13300F
• Vs Ryzen 3 PRO 5350GE
• Vs Ryzen 9 7900X3D
• Vs Ryzen 9 PRO 5945
• Vs Ryzen 7 5700GE
• Vs Ryzen 7 5800X3D
• Vs Ryzen 5 4500
• Vs Ryzen 7 3700X
• Vs Ryzen 9 5600X
• Vs Ryzen 5 5600GE
• Vs Ryzen 3 5300GE
• Vs Ryzen 7 4700GE
• Vs Ryzen 5 4600G
• Vs Ryzen 5 4600GE
• Vs Ryzen 5 PRO 5645
• Vs Ryzen 7 PRO 5845
• Vs Ryzen 3 PRO 5350G
• Vs Ryzen 5 PRO 4655G
• Vs Core i5-13490F
• Vs Ryzen 5 PRO 4655GE
• Vs Core i7-13790F
• Vs Ryzen 5 5600G
• Vs Ryzen 7 2700X
• Vs Core i3-12100F
• Vs Core i7-9700K
• Vs Core i3-13100
• Vs Core i7-6700K
• Vs Core i5-11600KF
• Vs Core i9-9900K
• Vs Core i5-12600
• Vs Core i5-11600K
• Vs Ryzen 7 5700G
• Vs Core i7-10700K
• Vs Ryzen 7 3800X
• Vs Core i7-11700K
• Vs Core i5-9600K
• Vs Core i7-10700
• Vs Ryzen 5 3600
• Vs Core i5-11400
• Vs Ryzen 5 5600X
• Vs Core i3-12100
• Vs Core i7-7700K
• Vs Core i9-11900K
• Vs Core i3-12300
• Vs Ryzen 5 PRO 3600
• Vs Ryzen 9 7950X3D
• Vs Core i9-10900K
• Vs Core i5-12400F
• Vs Core i5-10400
• Vs Core i7-8700K
• Vs Ryzen 7 7800X3D
• Vs Ryzen 3 PRO 4355G
• Vs Ryzen 3 PRO 4355GE
• Vs Ryzen 5 5600X3D