| | |
| --- | --- |
| | Samsung Exynos 1380 specs |
Samsung Exynos 1380 mid-range SoC is installed in mobile gadgets such as tablets and phones, SoC release year 2022. The processor created by a 5 nm process. The SoC has a eight cores divided into two blocks. The first block ARM Cortex-A78 is the most powerful with two cores running at 2.4 GHz. The second cluster ARM Cortex-A55 has six cores running at 2.0 GHz. The processor has support for 64-bit data. Mali-G68 MP5 GPU is responsible for operating with graphical data.
Gadgets that have the Samsung Exynos 1380 can work in 4th gen and 5th gen networks. Modem Exynos Modem 5300 allows you to download and send data at a speed 3790 MBit/s and 1280 MBit/s.
You can find out whether Samsung Exynos 1380 SoC is good or bad from testing data and comparisons with other processors.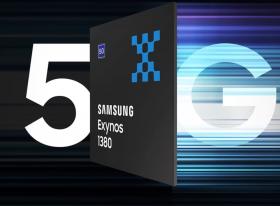 Samsung Exynos 1380 specifications
General Info
| | |
| --- | --- |
| Brand | Samsung |
| Name | Exynos 1380 |
| Release date | 2022 |
| CPU configuration | 2x2.4 GHz ARM Cortex-A78, 6x2.0 GHz ARM Cortex-A55 |
| Instruction set architecture | ARMv8.3-A |
| Frequency | 2400 MHz |
| Cores | 8 |
| Word Size | 64 bit |
| Process | 5 nm |
| Transistor count | 4800 million |
| Technologies | Advanced MFC, Exynos ModAP, Physically unclonable function (PUF), Heterogeneous System Architecture, Samsung Coherent Interconnect, Vision Processing Unit |
| Neural Processing Unit | AI Engine with 4.9TOPS NPU |
| Power consumption (TDP) | 8 W |
| L3 cache | 4 MB |
Graphics
| | |
| --- | --- |
| GPU | Mali-G68 MP5 |
| Frequency | 950 MHz |
| Cores | 5 |
| Process | 5 nm |
Memory
| | |
| --- | --- |
| Type | LPDDR4x, LPDDR5 |
| Frequency | 1866 MHz |
| Max volume | 8 Gb |
| Internal type | eMMC 5.1, UFS 3.1, UFS 2.1, SD 3.0 |
| Memory bandwidth | 44 GB/s |
| Memory bus | 4x 16 Bit |
Connectivity
| | |
| --- | --- |
| Modem | Exynos Modem 5300 |
| Download speed | 3790 MBit/s |
| Upload speed | 1280 MBit/s |
| LTE Cat | LTE Cat.18 6CC (DL) / Cat.18 2CC (UL) |
| Wi-Fi ranges | b/g/n |
| Location | Galileo, GPS,Glonass,Beidou, SBAS, QZSS |
| Wi-Fi ver. | 6 |
| Bluetooth ver. | 5.2 |
Cameras
| | |
| --- | --- |
| Main camera max resolution | 200 MPix |
| Second camera max resolution | 64 and 64 MPix |
| Codecs | 4096 x 2160, max FPS 120. Codec: H.264,10-bit H.265/HEVC, VP9 |
| Technologies | PDAF, Smart WDR, Dual ISP |
Display and Audio
Maximum Display resolution
4096 x 2160 pix
Video encoding
Resolution 8K, 4K (Ultra HD), 2K, FullHD, max FPS 150. Codec: H.264,10-bit H.265/HEVC, VP9
Audio codecs
CAF
MP4
WAV
MP3
AAC
AIFF

• Devices lists
• Benchmarks
• PUBG mobile
• Fortnite Mobile
• Antutu 8
• 3DMark
• GeekBench 5 mobile


Samsung Exynos 1380 SoC Comparisons
• Vs Apple A12 Bionic
• Vs HiSilicon Kirin 985
• Vs HiSilicon Kirin 990 5G
• Vs Mediatek Dimensity 900
• Vs MediaTek Dimensity 1000 Plus
• Vs Qualcomm Snapdragon 778G
• Vs Mediatek Dimensity 920
• Vs Samsung Exynos 990
• Vs Apple A13 Bionic
• Vs Apple A14 Bionic
• Vs MediaTek Dimensity 1080
• Vs Qualcomm Snapdragon 865
• Vs MediaTek Dimensity 1100
• Vs MediaTek Dimensity 1200
• Vs MediaTek Dimensity 820
• Vs Mediatek Dimensity 810
• Vs Qualcomm Snapdragon 695
• Vs HiSilicon Kirin 820 5G
• Vs MediaTek Helio G99
• Vs HiSilicon Kirin 980
• Vs Qualcomm Snapdragon 768G
• Vs MediaTek Dimensity 800
• Vs Qualcomm Snapdragon 690 5G
• Vs Qualcomm Snapdragon 855 Plus
• Vs MediaTek Dimensity 800U
• Vs MediaTek Helio G96
• Vs Qualcomm Snapdragon 750G
• Vs MediaTek Dimensity 720 5G
• Vs Qualcomm Snapdragon 480 Plus
• Vs MediaTek Helio G95
• Vs Qualcomm Snapdragon 765G
• Vs Qualcomm Snapdragon 855
• Vs Qualcomm Snapdragon 732G
• Vs Qualcomm Snapdragon 8 Gen 3
• Vs Apple M2
• Vs MediaTek Dimensity 9200
• Vs Apple M1
• Vs Qualcomm Snapdragon 8 Gen 2
• Vs Qualcomm Snapdragon 8 Plus Gen 1
• Vs MediaTek Dimensity 9000 Plus
• Vs MediaTek Dimensity 9000
• Vs Qualcomm Snapdragon 8 Gen 1
• Vs Qualcomm Snapdragon 898
• Vs Apple A16 Bionic
• Vs MediaTek Dimensity 8200
• Vs Qualcomm Snapdragon 895
• Vs Qualcomm Snapdragon 888 Plus
• Vs Google Tensor G2
• Vs Qualcomm Snapdragon 888
• Vs Apple A15 Bionic
• Vs MediaTek Dimensity 1300
• Vs MediaTek Dimensity 8100-Max
• Vs Google Tensor
• Vs MediaTek Dimensity 8100-Ultra
• Vs MediaTek Dimensity 8100
• Vs MediaTek Dimensity 8000
• Vs Qualcomm Snapdragon 7 Gen 1
• Vs Apple A12Z Bionic
• Vs Qualcomm Snapdragon 780G
• Vs Qualcomm Snapdragon 870 5G
• Vs HiSilicon Kirin 9000
• Vs MediaTek Kompanio 1300T
• Vs Mediatek Dimensity 1200 Max
• Vs Qualcomm QCS7230
• Vs MediaTek Kompanio 1380
• Vs HiSilicon Kirin 9000L
• Vs Qualcomm Snapdargon 782G
• Vs Qualcomm QCM6490
• Vs MediaTek Dimensity 930
• Vs MediaTek Kompanio 900T
• Vs HiSilicon Kirin 990E
• Vs MediaTek Kompanio 800T
• Vs Samsung Exynos 2100
• Vs Samsung Exynos 7 7904
• Vs Samsung Exynos 7 Octa 7884
• Vs Samsung Exynos 7 Octa 7885
• Vs MediaTek Dimensity 700
• Vs Qualcomm Snapdragon 4 Gen 1
• Vs Samsung Exynos 1280
• Vs HiSilicon KIRIN 820E 5G
• Vs Qualcomm Snapdragon 850
• Vs Qualcomm Snapdragon 845 SDM845
• Vs MediaTek Helio G90T
• Vs Qualcomm Snapdragon 680
• Vs Qualcomm Snapdragon 480 5G
• Vs MediaTek Helio G88
• Vs Qualcomm Snapdragon 7c Gen 2
• Vs Unisoc Tiger T612
• Vs Apple A12X Bionic
• Vs Qualcomm Snapdragon 865 Plus
• Vs Samsung Exynos 1080
• Vs Samsung Exynos 1330