| | |
| --- | --- |
| | Intel Core i9-13900KS specs |
Intel Core i9-13900KS at 4.5 GHz Top Level CPU 13th generation with Raptor Lake core name, is working in Desktops with FCLGA1700 socket, announced in October 12, 2022. The CPU manufactured using 7 nm process technology. Intel Core i9-13900KS has 24 cores and 32 Threads working at a frequency of 4.5 GHz (Turbo mode - 5.9 GHz) with typical Thermal Design Power 125 W.
The rest of the technical specifications and more information about the processor like Die Size, 64 Bit support, Cashes Size, Memory Specification/Type, Overclocking, Architecture, Unlocked or not and other can be found in the table below.
You can understand Intel Core i9-13900KS is bad or good by looking at testing data and comparisons with other CPUs.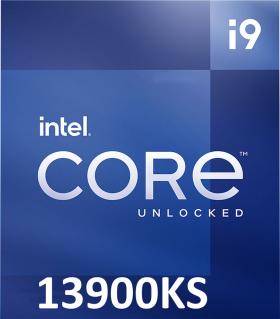 Intel Core i9-13900KS specifications
General Info
Name
Intel Core i9-13900KS
Core name
Raptor Lake
Generation
13th
Architecture
x86
Release date
October 12, 2022
Price
361 USD
Frequency
4.5 GHz
Turbo frequency
5.9 GHz
Min frequency
3 GHz
Cores
24
Threads
32
Socket
FCLGA1700
Bus Speed
16 GT/s
Thermal Design Power (TDP)
125 W
Min TDP
90 W
Max. Temperature
100 &degC
Hyper-threading
Yes
L3 Cache
36 MB
Instruction Set Extensions
Intel SSE4.2
Intel SSE4.1
Intel AVX2
Word Size
64 bit
TSMC FinFET process (Lithography)
7 nm
Transistor count
14200 million
Virtualization
VT-x, VT-x EPT, VT-d
Technologies
Intel Speed Shift Technology
Intel Volume Management Device (VMD)
Thermal Monitoring Technologies
Intel Turbo Boost Technology
Intel Thermal Velocity Boost
Intel Hyper-Threading Technology
Intel Thread Director
Intel 64
Instruction Set
Intel Gaussian & Neural Accelerator
Instruction Set Extensions
Intel Deep Learning Boost (Intel DL Boost)
Enhanced Intel SpeedStep Technology
Intel Turbo Boost Max Technology 3.0
Idle States

Security
Mode-based Execute Control (MBEC)
Intel Stable IT Platform Program (SIPP)
Intel VT-x with Extended Page Tables (EPT)
Intel Virtualization Technology (VT-x)
Execute Disable Bit
Intel Control-Flow Enforcement Technology
Intel Virtualization Technology for Directed I/O (VT-d)
Intel Virtualization Technology with Redirect Protection (VT-rp)
Intel Trusted Execution Technology
Secure Key
Intel AES New Instructions
Intel Boot Guard
Intel Standard Manageability (ISM)
Intel OS Guard
Supported OS
Windows 11, 10 - 64-Bit Edition
RHEL x86 64-Bit
Ubuntu x86 64-Bit

Part numbers
Expansion Options

Performance
| | |
| --- | --- |
| Cinebench R15 Multi-Core | 7535 |
| Cinebench R15 Single-Core | 710 |
| Cinebench R20 Multi-Core | 16826 |
| Cinebench R20 Single-Core | 1182 |
| Cinebench R23 Multi-Core | 48551 |
| Cinebench R23 Single-Core | 4183 |
| GeekBench 5.2 Multi-Core | 37896 |
| GeekBench 5.2 Single-Core | 4986 |
| PassMark | 84791 |
| Single Thread Mark | 3491 |
Graphics
GPU
Intel UHD Graphics 770
Frequency
300 MHz
Max. frequency
1650 MHz
Cores
32
Graphics technologies
Max Resolution (HDMI): 4096 x 2160 at 60Hz
OpenGL: 4.5
Multi-Format Codec Engines
OpenCL* Support
Max Resolution (DP): 7680 x 4320 at 60Hz
Intel Clear Video HD Technology
DirectX: 12
Intel Quick Sync Video
Max Resolution (eDP - Integrated Flat Panel): 5120 x 3200 at 120Hz
Graphics Output: eDP 1.4b, MIPI-DSI 2.0, DP 1.4, HDMI 2.0b
Max Displays
4
Memory
| | |
| --- | --- |
| Type | Up to DDR5 5600 MT/s Up to DDR4 3200 MT/s |
| Frequency | 6500 MHz |
| Memory Channels | 2 |
| Memory Speed | 89.6 GB/s |
| Memory Size | 128 Gb |

• Cinebench r15 score
• Cinebench r20 score
• Cinebench r23 score
• GeekBench 5 score


Intel Core i9-13900KS Processor Comparisons
• Vs Ryzen Threadripper PRO 3995WX
• Vs Ryzen Threadripper PRO 5975WX
• Vs Ryzen Threadripper PRO 5995WX
• Vs Ryzen Threadripper PRO 5965WX
• Vs Ryzen Threadripper 3990X
• Vs Core i9-12900KS
• Vs Ryzen 9 7950X
• Vs Core i9-13900K
• Vs Core i9-13900KF
• Vs EPYC 7702
• Vs EPYC 7763
• Vs EPYC 7713P
• Vs EPYC 75F3
• Vs EPYC 7713
• Vs EPYC 7742
• Vs Core i7-13700K
• Vs Core i9-12950HX
• Vs Core i7-13700KF
• Vs Core i9-12900HX
• Vs Ryzen Threadripper 3970X
• Vs Ryzen Threadripper PRO 3975WX
• Vs EPYC 7663
• Vs EPYC 7543P
• Vs Core i9-12900K
• Vs Core i9-12900H
• Vs Core i5-13600K
• Vs EPYC 7643
• Vs Core i9-12900HK
• Vs Core i5-13600KF
• Vs Ryzen Threadripper 3960X
• Vs Core i9-12900KF
• Vs EPYC 7543
• Vs Ryzen 9 7900X
• Vs Ryzen 9 PRO 6950H
• Vs Ryzen Threadripper PRO 3955WX
• Vs Core i9-12900T
• Vs Ryzen 9 5900
• Vs Ryzen 9 5950X
• Vs Ryzen 9 7700X
• Vs Ryzen 9 5900X
• Vs Core i7-12850HX
• Vs Core i7-12700KF
• Vs Core i9-12900
• Vs Core i5-12600KF
• Vs Core i7-12700K
• Vs Core i5-12600K
• Vs Ryzen 9 7600X
• Vs Ryzen 9 3950X
• Vs Core i9-12900F
• Vs Core i7-11700B
• Vs Core i9-11900H
• Vs Ryzen 7 PRO 6850H
• Vs Core i7-12700F
• Vs Ryzen 9 3900
• Vs Ryzen Threadripper PRO 3945WX
• Vs Core i9-11900KB
• Vs Core i7-12800H
• Vs Ryzen Threadripper 2970WX
• Vs Ryzen 7 5800X
• Vs Core i9-11980HK
• Vs Ryzen Threadripper 2990WX
• Vs Ryzen 9 5800
• Vs Ryzen Threadripper 2950X
• Vs Core i7-12650HX
• Vs Ryzen 7 PRO 6850U
• Vs Core i7-12700T
• Vs Core i7-12700H
• Vs Ryzen 9 PRO 3900
• Vs Core i9-10940X
• Vs Core i7-12700
• Vs Ryzen 9 3900X
• Vs Ryzen 9 5800X
• Vs Ryzen 9 PRO 6950HS
• Vs Ryzen 9 3900XT
• Vs Ryzen 7 PRO 3700
• Vs Core i9-11900T
• Vs Core i5-12400
• Vs Ryzen 7 3800X
• Vs Core i5-12400F
• Vs Core i9-11900
• Vs Ryzen 7 3700X
• Vs Core i5-12600T
• Vs Core i7-11700
• Vs Ryzen 7 3800XT
• Vs Ryzen 9 5600X
• Vs Ryzen 5 5600G
• Vs Ryzen 5 5600X
• Vs Core i9-11900K
• Vs Ryzen 7 Pro 5750GE
• Vs Core i7-11700F
• Vs Core i5-12600H
• Vs Core i7-11700T
• Vs Core i9-11900F
• Vs Ryzen 7 5800X3D
• Vs Core i7-11700KF
• Vs Core i5-12490F
• Vs Core i9-10900KF
• Vs Ryzen 7 5700G
• Vs Core i5-12400T
• Vs Ryzen 7 Pro 5750G
• Vs Core i7-11700K
• Vs Core i9-10900K
• Vs Core i5-12600
• Vs Core i9-11900KF
• Vs Core i5-13400
• Vs Core i5-13500
• Vs Core i7-13700
• Vs Core i9-13900
• Vs Core i3-13100
• Vs Apple M2
• Vs Apple M1 Pro
• Vs Apple M1 Max
• Vs Apple M1 Ultra
• Vs Apple M2 Pro
• Vs Apple M2 Max
• Vs Core i5-13600
• Vs Core i7-13700H
• Vs Core i9-13900HK
• Vs Core i9-13900HX
• Vs Core i5-13600HX
• Vs Core i9-13950HX