| | |
| --- | --- |
| | |
AMD Ryzen 5 1600X at 3.6 GHz High Mid Range CPU 1st generation with Summit Ridge core name, designed for work in Desktops with AM4 socket, announced in April 11, 2017. The CPU manufactured using 14 nm process technology. AMD Ryzen 5 1600X has 6 cores and 12 Threads operating at 3.6 GHz (Turbo mode - 4 GHz) with typical Thermal Design Power 95 W.
The rest of the technical specifications and more information about the processor like Memory Specification/Type, Architecture, Die Size, Cashes Size, 64 Bit support, Overclocking, Unlocked or not and other can be found in the table below.
You can understand AMD Ryzen 5 1600X is bad or good from comparisons with other processors and testing results.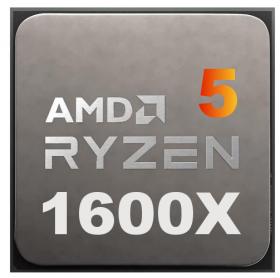 AMD Ryzen 5 1600X specifications
General Info
Name
AMD Ryzen 5 1600X
Core name
Summit Ridge
Generation
1st
Architecture
Zen
Release date
April 11, 2017
Price
209 USD
Frequency
3.6 GHz
Turbo frequency
4 GHz
Cores
6
Threads
12
Unlocked
Yes
Socket
AM4
Thermal Solution
Not included
Thermal Design Power (TDP)
95 W
L3 Cache
16MB
Word Size
64 bit
TSMC FinFET process (Lithography)
14 nm
Transistor count
2800 million

Supported OS
Windows 10 - 64-Bit EditionWindows 10 - 64-Bit Edition
RHEL x86 64-Bit
Ubuntu x86 64-Bit

Part numbers
YD160XBCM6IAE

Performance
| | |
| --- | --- |
| Cinebench R15 Multi-Core | 1126 |
| Cinebench R15 Single-Core | 151 |
| Cinebench R20 Multi-Core | 2764 |
| Cinebench R20 Single-Core | 389 |
| Cinebench R23 Multi-Core | 6470 |
| Cinebench R23 Single-Core | 942 |
| GeekBench 5.2 Multi-Core | 5730 |
| GeekBench 5.2 Single-Core | 1010 |
| PassMark | 13041 |
| Single Thread Mark | 2217 |
Memory
| | |
| --- | --- |
| Type | DDR4 |
| Frequency | 2667 MHz |
| Memory Channels | 2 |

• Cinebench r15 score
• Cinebench r20 score
• Cinebench r23 score
• GeekBench 5 score


AMD Ryzen 5 1600X Processor Comparisons
• Vs Core i5-11300H
• Vs Core i7-8700
• Vs Celeron 7300
• Vs Core i7-10700T
• Vs Core i7-11390H
• Vs Ryzen 5 2600
• Vs Xeon W-10855M
• Vs Core i5-10500
• Vs Ryzen 5 3500X
• Vs Core i7-9700
• Vs Celeron 7305
• Vs Ryzen 5 2600E
• Vs Ryzen 5 PRO 2600
• Vs Ryzen 7 4700U
• Vs Core i7-9700F
• Vs Ryzen 5 4600U
• Vs Core i7-6900K
• Vs Core i9-9900T
• Vs Core i7-8700K
• Vs Core i5-10600
• Vs Core i5-11260H
• Vs Ryzen 5 2600X
• Vs Core i9-9880H
• Vs Pentium 8500
• Vs Xeon W-2235
• Vs Ryzen 5 5500U
• Vs Ryzen 5 4600HS
• Vs Ryzen 7 PRO 1700
• Vs Pentium 8505
• Vs Core i7-9700K
• Vs Ryzen 3 5300G
• Vs Ryzen 5 3500
• Vs Ryzen 5 PRO 4650U
• Vs Ryzen 3 3300X
• Vs Core i7-9700E
• Vs Core i7-10850H
• Vs Core i7-5960X
• Vs Core i7-7800X
• Vs Core i7-10750H
• Vs Core i5-10400F
• Vs Core i7-8700B
• Vs Core i5-10400
• Vs Core i7-11375H
• Vs Ryzen 5 1600
• Vs Ryzen 3 5425U
• Vs Core i5-10600T
• Vs Core i7-11370H
• Vs Ryzen 5 PRO 4500U
• Vs Ryzen 3 4300GE
• Vs Core i7-1195G7
• Vs Ryzen 3 3100
• Vs Core i5-1145G7
• Vs Core i7-9850H
• Vs Core i7-9750HF
• Vs Ryzen 3 4300G
• Vs Core i5-1140G7
• Vs Core i7-1185G7
• Vs Ryzen 3 PRO 4350GE
• Vs Core i7-1160G7
• Vs Ryzen 5 4500U
• Vs Ryzen 3 2200G
• Vs Ryzen 5 5600
• Vs Ryzen 7 7700
• Vs Ryzen 5 7600
• Vs Core i9-13900F
• Vs Core i7-13700T
• Vs Core i5-13600T
• Vs Core i5-13400T
• Vs Core i3-13100T
• Vs Core i3-13100F
• Vs Ryzen 7 5700X
• Vs Ryzen 3 1200
• Vs Ryzen 5 5500
• Vs Core i3-13300F
• Vs Ryzen 3 PRO 5350GE
• Vs Ryzen 9 7950X3D
• Vs Ryzen 9 PRO 5945
• Vs Ryzen 7 5700GE