| | |
| --- | --- |
| | MediaTek Dimensity 1200 Max specs |
Mediatek Dimensity 1200 Max top level chip is installed in mobile gadgets such as smartphones and tablets, SoC release year 2021. The processor produced by a 6 nm process. The processor has a eight cores divided into three clusters. The first ARM Cortex-A78 is the fastest with one core running at 3.1 GHz. The second cluster ARM Cortex-A78 has three cores running at 2.7 GHz. The third block ARM Cortex-A55 has four cores working at 2.0 GHz. The processor has support for 64-bit data. Mali-G77 MP11 GPU is responsible for working with graphical data.
Devices that have the Mediatek Dimensity 1200 Max installed can work in 4G and 5th generation networks. Maximum speed of download and upload are 4700 MBit/s and 2500 MBit/s with the Sub 6GHz 5G Multi-Mode modem.
To understand Mediatek Dimensity 1200 Max chip is good or bad from comparisons with other processors and testing results.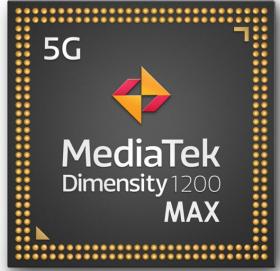 Mediatek Dimensity 1200 Max specifications
General Info
| | |
| --- | --- |
| Brand | MediaTek |
| Name | Dimensity 1200 Max |
| Model | MT6894 |
| Release date | 2021 |
| CPU configuration | 1x3.1 GHz ARM Cortex-A78, 3x2.7 GHz ARM Cortex-A78, 4x2.0 GHz ARM Cortex-A55 |
| Instruction set architecture | ARMv8-A |
| Frequency | 3100 MHz |
| Cores | 8 |
| Word Size | 64 bit |
| Process | 6 nm |
| Transistor count | 5800 million |
| Technologies | Ray Tracing in Mobile Games and AR, Heterogeneous Multi-Processing, MiraVision, 44Hz UHFR (ultra-high frame rate), Super Hotspot Power Saving, Wi-Fi 6 Smart Power Saving, EnergySmart Screen, PQ Engine 3.0, MediaTek HyperEngine 3.0 gaming technology |
| Security | Tiny Sensor Hub, NeuroPilot, Pump Express Wireless, Imagiq, Pump Express, APU 3.0, CorePilot |
| Neural Processing Unit | MediaTek APU 3.0 (six core) Multi-tasking AI Processor |
| Power consumption (TDP) | 10 W |
| L1 cache | 32 KB |
| L2 cache | 320 KB |
| L3 cache | 8 MB |
Graphics
| | |
| --- | --- |
| GPU | Mali-G77 MP11 |
| Frequency | 800 MHz |
| Cores | 11 |
| Process | 7 nm |
Memory
| | |
| --- | --- |
| Type | LPDDR4x |
| Frequency | 4266 MHz |
| Max volume | 16 Gb |
| Internal type | UFS 3.1 |
| Memory bandwidth | 29 GB/s |
| Memory bus | 4x 16 Bit |
Connectivity
| | |
| --- | --- |
| Modem | Sub 6GHz 5G Multi-Mode |
| Download speed | 4700 MBit/s |
| Upload speed | 2500 MBit/s |
| Wi-Fi ranges | 6 a/b/g/n/ac/ax |
| Location | GPS L1CA+L5, BeiDou B1I+ B2a, Galileo E1 + E5a, QZSS L1CA+ L5, Glonass L1OF, NavIC |
| Wi-Fi ver. | 6 |
| Bluetooth ver. | 5 |
Cameras
Main camera max resolution
200 MPix
Second camera max resolution
32 and 16 MPix
Codecs
3840 x 2160, max FPS 30. Codec: H.264, H.265/HEVC
Technologies
Multi Person, AI-Segmentation and Bokeh
Multi-Depth Smart Focus video
Anti-Blooming Engine
Real-time HDR recording and viewing
MEMA 3DNR
Zig-Zag HDR
(AI) Facial Detection
AI Panorama Night Shot
AI-AE, AI-Shutter, AI-HDR, Video HDR, AI-AWB, AI-AF, AI-NR HDR, Video Bokeh, AI-FD, Video EIS, Video NR, HDR-ISP (3+2)
PDAF
Multi-Frame Noise reduction
Hardware Warping Engine (EIS)
RAW-domain multi-frame HDR
Display and Audio
| | |
| --- | --- |
| Maximum Display resolution | 2520 x 1080 pix |
| Video encoding | Resolution 4K, 2K, FullHD, max FPS 240. Codec: H.264, H.265/HEVC |

• Devices lists
• Benchmarks
• PUBG mobile
• Fortnite Mobile
• Antutu 8
• 3DMark
• GeekBench 5 mobile


Mediatek Dimensity 1200 Max SoC Comparisons
• Vs HiSilicon Kirin 9000
• Vs Qualcomm Snapdragon 870 5G
• Vs Qualcomm Snapdragon 780G
• Vs Apple A12Z Bionic
• Vs Google Tensor
• Vs Qualcomm Snapdragon 888
• Vs Qualcomm Snapdragon 875
• Vs Qualcomm Snapdragon 888 Plus
• Vs Qualcomm Snapdragon 888 Pro
• Vs Qualcomm Snapdragon 895
• Vs Qualcomm Snapdragon 898
• Vs Qualcomm Snapdragon 8 Gen 1
• Vs Apple M1
• Vs HiSilicon Kirin 9000E
• Vs Samsung Exynos 1080
• Vs Apple A12X Bionic
• Vs Samsung Exynos 2100
• Vs Qualcomm Snapdragon 865 Plus
• Vs Samsung Exynos 2000
• Vs MediaTek Dimensity 1200
• Vs MediaTek Dimensity 1100
• Vs Qualcomm Snapdragon 865
• Vs Apple A14 Bionic
• Vs Qualcomm Snapdragon 775G
• Vs MediaTek Dimensity 1000L
• Vs Apple A13 Bionic
• Vs Samsung Exynos 990
• Vs Mediatek Dimensity 920
• Vs Qualcomm Snapdragon 778G
• Vs MediaTek Dimensity 1000 Plus
• Vs Qualcomm Snapdragon 8cx Gen 3
• Vs Mediatek Dimensity 900
• Vs HiSilicon Kirin 990 5G
• Vs Qualcomm Snapdragon 860
• Vs HiSilicon Kirin 990E
• Vs MediaTek Dimensity 1000C
• Vs HiSilicon Kirin 985
• Vs Apple A12 Bionic
• Vs MediaTek Dimensity 820
• Vs Mediatek Dimensity 810
• Vs Samsung Exynos 9 9820
• Vs Qualcomm Snapdragon 695
• Vs Qualcomm Snapdragon 8cx Gen 2
• Vs MediaTek Kompanio 900T
• Vs MediaTek Dimensity 8100
• Vs MediaTek Dimensity 8000
• Vs MediaTek Dimensity 9000
• Vs MediaTek Kompanio 1300T
• Vs MediaTek Dimensity 1300
• Vs Samsung Exynos 1280
• Vs HiSilicon Kirin 9000L
• Vs Qualcomm Snapdragon 7 Gen 1
• Vs Qualcomm Snapdragon 778G+
• Vs Qualcomm Snapdragon G3x Gen 1
• Vs MediaTek Dimensity 1050
• Vs MediaTek Dimensity 930
• Vs Samsung Exynos 2200
• Vs Qualcomm Snapdragon 8 Plus Gen 1
• Vs MediaTek Dimensity 9000 Plus
• Vs MediaTek Dimensity 8100-Max
• Vs MediaTek Kompanio 800T
• Vs MediaTek Kompanio 1380
• Vs MediaTek Kompanio 820
• Vs MediaTek Kompanio 828
• Vs MediaTek Dimensity 8000-Max
• Vs Qualcomm Snapdragon 8 Gen 2
• Vs Qualcomm Snapdragon 6 Gen 1
• Vs Apple A16 Bionic
• Vs Apple A15 Bionic
• Vs Google Tensor G2
• Vs Qualcomm Snapdragon 4 Gen 1
• Vs MediaTek Dimensity 8100-Ultra
• Vs Apple M2
• Vs MediaTek Dimensity 1080
• Vs MediaTek Dimensity 9200
• Vs Qualcomm Snapdargon 782G
• Vs MediaTek Dimensity 8200
• Vs Qualcomm QCM6490
• Vs Qualcomm QCS8250
• Vs Qualcomm QCS7230
• Vs Qualcomm QCS6490
• Vs Qualcomm Snapdragon 7c+ Gen 3
• Vs Qualcomm Snapdragon 8 Gen 3
• Vs Samsung Exynos 1330
• Vs Samsung Exynos 1380
• Vs Apple A17 Bionic
• Vs MediaTek Dimensity 6020
• Vs MediaTek Dimensity 7200
• Vs Qualcomm Snapdragon 7+ Gen 2