| | |
| --- | --- |
| | Qualcomm Snapdragon 7c specs |
Qualcomm Snapdragon 7c at 2.4 GHz is a Low Level processor 1st generation with Kryo 468 core name, designed for Laptops and Chromebooks, released in May 24, 2021. The CPU produced by a 7 nm process. Qualcomm Snapdragon 7c has 8 cores and 8 Threads working at a frequency of 2.4 GHz (Turbo mode - No) with typical Thermal Design Power 8 W.
The rest of the technical specifications and some more information about the processor like Unlocked or not, Die Size, 64 Bit support, Memory Specification/Type, Cashes Size, Overclocking, Architecture and other can be found in the table below.
To understand Qualcomm Snapdragon 7c is bad or good from benchmark data and comparisons with other processors.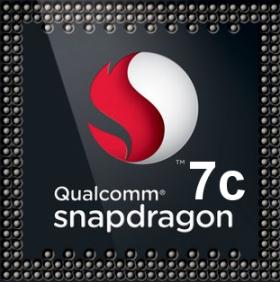 Qualcomm Snapdragon 7c specifications
General Info
Name
Qualcomm Snapdragon 7c
Core name
Kryo 468
Generation
1st
Architecture
hybrid (big.LITTLE)
Release date
May 24, 2021
Instruction set architecture
ARMv8.3-A
Frequency
2.4 GHz
Min frequency
2 GHz
Cores
8
Threads
8
Socket
Unk
Thermal Solution
No
Thermal Design Power (TDP)
8 W
Max. Temperature
95 &degC
Word Size
64 bit
TSMC FinFET process (Lithography)
7 nm
Transistor count
3600 million

Supported OS
Chrome OS
Windows 10, 11 - 64-Bit Edition

Performance
| | |
| --- | --- |
| Cinebench R15 Multi-Core | 144 |
| Cinebench R15 Single-Core | 61 |
| Cinebench R20 Multi-Core | 239 |
| Cinebench R20 Single-Core | 118 |
| Cinebench R23 Multi-Core | 911 |
| Cinebench R23 Single-Core | 331 |
| GeekBench 5.2 Multi-Core | 1668 |
| GeekBench 5.2 Single-Core | 546 |
| PassMark | 2561 |
| Single Thread Mark | 405 |
Graphics
| | |
| --- | --- |
| GPU | Adreno 618 GPU |
| Frequency | 750 MHz |
| Cores | 256 |
| Max Displays | 2 |
Memory
| | |
| --- | --- |
| Type | LPDDR4x |
| Frequency | 2133 MHz |
| Memory Size | 12 Gb |

• Cinebench r15 score
• Cinebench r20 score
• Cinebench r23 score
• GeekBench 5 score


Qualcomm Snapdragon 7c Processor Comparisons
• Vs Celeron N5095
• Vs Celeron N4500
• Vs Ryzen 5 4500U
• Vs Ryzen 7 3750H
• Vs Core i5-7300HQ
• Vs Core i5-8250U
• Vs Ryzen 3 5125C
• Vs Celeron N5105
• Vs Celeron N5100
• Vs Ryzen 3 7330U
• Vs Ryzen 3 7335U
• Vs Core i3-1000NG4
• Vs Celeron 6305
• Vs Core i3-1005G1
• Vs Ryzen 5 3500U
• Vs Core i5-7200U
• Vs Core i5-8210Y
• Vs Ryzen 3 5300U
• Vs Pentium Gold 7505
• Vs Ryzen 5 5625U
• Vs Ryzen 5 3550H
• Vs Core i5-1030NG7
• Vs Core i3-10110U
• Vs Core i5-8257U
• Vs Core i5-9300H
• Vs Core i3-1115G4
• Vs Core i5-1035G1
• Vs Core i7-1060NG7
• Vs Core i5-10210U
• Vs Core i7-10510U
• Vs Ryzen 7 4700U
• Vs Ryzen 5 5500U
• Vs Ryzen 5 4600H