| | |
| --- | --- |
| | |
AMD EPYC 9454 at 2.75 GHz Top Level processor 4th generation with Genoa core name, designed for work in Servers with SP5 socket, date of announcement November 10, 2022. The CPU created by a 5 nm process. AMD EPYC 9454 has 48 cores and 96 Threads working at a frequency of 2.75 GHz (Turbo mode - 3.8 GHz) with typical Thermal Design Power 290 W.
The others technical specifications and more information about the processor like Cashes Size, Architecture, Die Size, Overclocking, Unlocked or not, 64 Bit support, Memory Specification/Type and other can be found below.
You can find out whether AMD EPYC 9454 is bad or good from comparisons with other processors and testing results.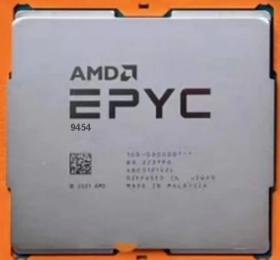 AMD EPYC 9454 specifications
General Info
Name
AMD EPYC 9454
Core name
Genoa
Generation
4th
Architecture
Zen 4
Release date
November 10, 2022
Price
5225 USD
Frequency
2.75 GHz
Turbo frequency
3.8 GHz
Cores
48
Threads
96
Socket
SP5
Socket Count
1P/2P
Thermal Design Power (TDP)
290 W
Min TDP
240 W
L3 Cache
256MB
Word Size
64 bit
TSMC FinFET process (Lithography)
5 nm
Transistor count
64000 million
Technologies
AMD Infinity Guard
AMD Infinity Architecture


Part numbers
100-000000478
100-100000478WOF
Performance
| | |
| --- | --- |
| Cinebench R15 Multi-Core | 9941 |
| Cinebench R15 Single-Core | 215 |
| Cinebench R20 Multi-Core | 21096 |
| Cinebench R20 Single-Core | 428 |
| Cinebench R23 Multi-Core | 54903 |
| Cinebench R23 Single-Core | 1093 |
| GeekBench 5.2 Multi-Core | 54343 |
| GeekBench 5.2 Single-Core | 1569 |
| PassMark | 80546 |
| Single Thread Mark | 2487 |
Memory
| | |
| --- | --- |
| Type | DDR5 |
| Frequency | 4800 MHz |
| Memory Channels | 12 |
| Memory Speed | 460.8 GB/s |
| Memory Size | 4096 Gb |

• Cinebench r15 score
• Cinebench r20 score
• Cinebench r23 score
• GeekBench 5 score


AMD EPYC 9454 Processor Comparisons
• Vs EPYC 7313
• Vs EPYC 7413
• Vs Xeon W-1290T
• Vs EPYC 7343
• Vs Xeon W-2235
• Vs EPYC 7F52
• Vs EPYC 7702
• Vs Xeon E5-2680R v4
• Vs Xeon E-2234
• Vs EPYC 7452
• Vs Xeon W-3245
• Vs EPYC 7F32
• Vs Xeon W-3275M
• Vs Xeon Platinum 8260M
• Vs Xeon Gold 6130T
• Vs Xeon Gold 6246R
• Vs EPYC 9334
• Vs EPYC 7513
• Vs EPYC 9554P
• Vs EPYC 7713P
• Vs EPYC 9634
• Vs EPYC 9654
• Vs EPYC 9174F
• Vs EPYC 7543P
• Vs EPYC 7713
• Vs EPYC 74F3
• Vs Xeon D-1602
• Vs EPYC 7763
• Vs EPYC 73F3
• Vs Xeon Gold 6248R
• Vs EPYC 9274F
• Vs EPYC 9554
• Vs Xeon E5-2697R v4
• Vs EPYC 7443P
• Vs EPYC 7643
• Vs Xeon Gold 6242R
• Vs EPYC 9124
• Vs EPYC 7742
• Vs EPYC 72F3
• Vs EPYC 7502
• Vs EPYC 9354P
• Vs EPYC 75F3
• Vs EPYC 7453
• Vs EPYC 9354
• Vs EPYC 7F72
• Vs EPYC 9224
• Vs EPYC 9534
• Vs EPYC 9254
• Vs EPYC 7313P
• Vs EPYC 7543
• Vs EPYC 7272
• Vs EPYC 7663
• Vs EPYC 9374F
• Vs EPYC 7443
• Vs EPYC 9654P
• Vs EPYC 9454P
• Vs EPYC 9474F
• Vs EPYC 7232P
• Vs EPYC 7402
• Vs EPYC 7252
• Vs EPYC 7262
• Vs EPYC 7352
• Vs EPYC 7532
• Vs EPYC 7542
• Vs EPYC 7552
• Vs EPYC 7642