| | |
| --- | --- |
| | Qualcomm Snapdragon 7c specs |
Qualcomm Snapdragon 7c is a low-end CPU designed to be installed in laptops and chromebooks, released in 2021. The SoC produced by a 7 nm process. The chipset has a eight cores divided into blocks. The first Kryo 468 is the fastest with eight cores running at 2.4 GHz. The processor can work with 64-bit data. Adreno 618 GPU is working with graphical data.
Devices that have the Snapdragon 7c can work in LTE networks. Maximum speed of download and upload are 600 MBit/s and 300 MBit/s with the Qualcomm Snapdragon X15 LTE modem modem.
To understand Snapdragon 7c SoC is good or bad by looking at testing data and comparisons with other processors.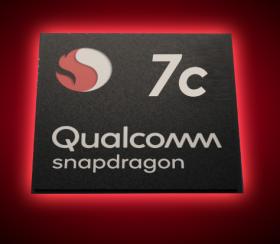 Qualcomm Snapdragon 7c specifications
General Info
| | |
| --- | --- |
| Brand | Qualcomm |
| Name | Snapdragon 7c |
| Model | Kryo 468 |
| Release date | 2021 |
| CPU configuration | 8x2.4 GHz Kryo 468 |
| Instruction set architecture | ARMv8.3-A |
| Frequency | 2400 MHz |
| Cores | 8 |
| Word Size | 64 bit |
| Process | 7 nm |
| Transistor count | ? |
| Technologies | Qualcomm Sensing Hub,Qualcomm Hexagon 696 Processor,Qualcomm Hexagon Tensor Accelerator,Qualcomm Hexagon Vector eXtensions (HVX),Qualcomm Artificial Intelligence (AI) Engine,Qualcomm Hexagon Voice Assistant,Qualcomm FastConnect 6200,Qualcomm All-Ways Aware technology,Qualcomm Spectra ISP,Game Jank Reducer v2.0,Game Fast Loader,Game Network Latency Manager |
| Security | Qualcomm Content Protection, Camera Security, Secure Boot, Qualcomm Mobile Security, Qualcomm Processor Security, Secure Token, Iris, Crypto Engine, Key Provisioning Security, Face), WiFi-Protect, Mobile Payments, Malware Protection, Qualcomm Trusted Execution Environment, Voice, Biometric Authentication (Fingerprint |
| Neural Processing Unit | Qualcomm Artificial Intelligence (AI) Engine |
| Power consumption (TDP) | 8 W |
Graphics
| | |
| --- | --- |
| GPU | Adreno 618 |
| Frequency | 750 MHz |
| Process | 8 nm |
Memory
| | |
| --- | --- |
| Type | LPDDR4x (Dual Channel) |
| Frequency | 2133 MHz |
| Max volume | 12 Gb |
| Internal type | UFS 2.1 |
| Memory bandwidth | 17 GB/s |
| Memory bus | 2x 16 Bit |
Connectivity
| | |
| --- | --- |
| Modem | Qualcomm Snapdragon X15 LTE modem |
| Download speed | 600 MBit/s |
| Upload speed | 300 MBit/s |
| LTE Cat | Cat-13 DL/Cat-12 UL |
| Wi-Fi ranges | a/b/g/n/ac/ad |
| Location | NavIC, QZSS, GLONASS, GPS, Galileo, Beidou, SBAS |
| Wi-Fi ver. | 6 |
| Bluetooth ver. | 5 |
Cameras
Main camera max resolution
32 MPix
Second camera max resolution
16 and 16 MPix
Codecs
3840 x 2160, max FPS 30. Codec: H.264/AVC,H.265/HEVC, VP8, VP9
Technologies
Forward-looking Electronic Image Stabilization (EIS)
Motion Compensated Temporal filtering (MCTF) for noise-free video capture
Multi-frame Noise Reduction (MFNR)
Display and Audio
Maximum Display resolution
2560 x 1440 pix
Video encoding
Resolution 4K (Ultra HD), 2K, FullHD, max FPS 60. Codec: H.264/AVC,H.265/HEVC, VP8, VP9
Audio codecs
AAC
AIFF
MP4
CAF
MP3
WAV

• Devices lists
• Benchmarks
• PUBG mobile
• Fortnite Mobile
• Antutu 8
• 3DMark
• GeekBench 5 mobile


Qualcomm Snapdragon 7c SoC Comparisons
• Vs Unisoc Tiger T612
• Vs MediaTek Helio G85
• Vs Samsung Exynos 980
• Vs HiSilicon Kirin 810
• Vs MediaTek Helio G88
• Vs Qualcomm Snapdragon 480 5G
• Vs Qualcomm Snapdragon 680
• Vs MediaTek Helio G90T
• Vs Qualcomm Snapdragon 845 SDM845
• Vs MediaTek Dimensity 700
• Vs Qualcomm Snapdragon 732G
• Vs Qualcomm Snapdragon 855
• Vs Qualcomm Snapdragon 765G
• Vs MediaTek Helio G95
• Vs Qualcomm Snapdragon 480 Plus
• Vs MediaTek Dimensity 720 5G
• Vs Qualcomm Snapdragon 750G
• Vs MediaTek Helio G96
• Vs MediaTek Dimensity 800U
• Vs Qualcomm Snapdragon 855 Plus
• Vs MediaTek Helio G80
• Vs Unisoc Tiger T618
• Vs Qualcomm Snapdragon 730G
• Vs Qualcomm Snapdragon 720G
• Vs Qualcomm Snapdragon 730
• Vs Qualcomm Snapdragon 712
• Vs MediaTek Helio G70
• Vs Qualcomm Snapdragon 710
• Vs Qualcomm Snapdragon 662
• Vs Qualcomm Snapdragon 835 MSM8998
• Vs Unisoc Tiger T610
• Vs Qualcomm Snapdragon 675
• Vs MediaTek Helio P95
• Vs MediaTek Helio P65 (MT6768)
• Vs MediaTek Helio P90
• Vs MediaTek Helio P60
• Vs HiSilicon Kirin 970
• Vs Samsung Exynos 9611
• Vs Unisoc Tiger T616
• Vs Qualcomm Snapdragon 665
• Vs Apple A10 Fusion
• Vs Unisoc Tiger T700
• Vs Apple A11 Bionic
• Vs Samsung Exynos 9 9820
• Vs Qualcomm Snapdragon 690 5G
• Vs MediaTek Dimensity 800
• Vs HiSilicon KIRIN 820E 5G
• Vs Qualcomm Snapdragon 768G
• Vs HiSilicon Kirin 980
• Vs Samsung Exynos 9825
• Vs MediaTek Helio G99
• Vs HiSilicon Kirin 820 5G
• Vs Qualcomm Snapdragon 695
• Vs Samsung Exynos 1280
• Vs Qualcomm Snapdragon 4 Gen 1
• Vs Mediatek Dimensity 810
• Vs MediaTek Dimensity 820
• Vs Apple A12 Bionic
• Vs HiSilicon Kirin 985
• Vs MediaTek Kompanio 800T
• Vs HiSilicon Kirin 990E
• Vs Qualcomm Snapdragon 860
• Vs HiSilicon Kirin 990 5G
• Vs Mediatek Dimensity 900
• Vs MediaTek Dimensity 930
• Vs MediaTek Dimensity 1000 Plus
• Vs Qualcomm Snapdragon 778G
• Vs Mediatek Dimensity 920
• Vs Samsung Exynos 990
• Vs Apple A13 Bionic
• Vs Apple A14 Bionic
• Vs MediaTek Dimensity 1080
• Vs Qualcomm Snapdragon 865
• Vs MediaTek Dimensity 1100
• Vs Qualcomm QCM6490
• Vs MediaTek Dimensity 1200
• Vs Qualcomm Snapdragon 865 Plus
• Vs Apple A12X Bionic
• Vs Qualcomm Snapdragon 870 5G
• Vs Apple A12Z Bionic
• Vs MediaTek Dimensity 8100
• Vs Samsung Exynos 9810
• Vs Samsung Exynos 880
• Vs MediaTek Kompanio 500
• Vs Apple A9
• Vs MediaTek Helio P70
• Vs Samsung Exynos 9610
• Vs Qualcomm Snapdragon 460
• Vs Samsung Exynos 9609
• Vs Unisoc Tiger T606
• Vs MediaTek Helio G37
• Vs MediaTek Helio G35
• Vs Qualcomm Snapdragon 660 MSM8976 Plus
• Vs MediaTek Helio G25
• Vs MediaTek Helio A25
• Vs MediaTek Helio P35
• Vs Unisoc SC79863a
• Vs MediaTek Helio P22
• Vs Qualcomm Snapdragon 7c Gen 2
• Vs Qualcomm Snapdragon 7c+ Gen 3
• Vs Qualcomm Snapdragon 8 Gen 3