| | |
| --- | --- |
| | Intel Core i3-7350K specs |
Intel Core i3-7350K at 4.2 GHz is a Low Mid Range CPU 7th generation with Kaby Lake core name, designed for Desktops with FCLGA1151 socket, date of announcement March 21, 2017. The CPU manufactured using 14 nm process technology. Intel Core i3-7350K has 2 cores and 4 Threads working at a frequency of 4.2 GHz (Turbo mode - No) with typical Thermal Design Power 60 W.
The others technical specifications and some more information about the CPU like Die Size, Cashes Size, Unlocked or not, Overclocking, Architecture, Memory Specification/Type, 64 Bit support and other can be found below.
You can understand Intel Core i3-7350K is bad or good from testing data and comparisons with other CPUs.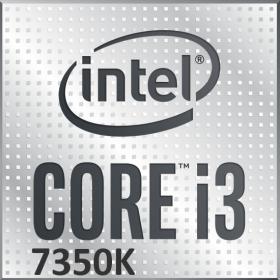 Intel Core i3-7350K specifications
General Info
Name
Intel Core i3-7350K
Core name
Kaby Lake
Generation
7th
Architecture
x86
Release date
March 21, 2017
Price
209 USD
Frequency
4.2 GHz
Cores
2
Threads
4
Socket
FCLGA1151
Bus Speed
8 GT/s
Thermal Design Power (TDP)
60 W
Max. Temperature
100 &degC
Hyper-threading
Yes
L3 Cache
4 MB
Instruction Set Extensions
Intel SSE4.2
Intel AVX2
Intel SSE4.1
Word Size
64 bit
TSMC FinFET process (Lithography)
14 nm
Transistor count
2460 million
Technologies
Idle States
Intel Stable Image Platform Program (SIPP)
Enhanced Intel SpeedStep Technology
Intel Identity Protection Technology
Intel VT-x with Extended Page Tables (EPT)
Intel Optane Memory Supported
Intel Virtualization Technology for Directed I/O (VT-d)
Instruction Set Extensions
Intel Transactional Synchronization Extensions
Intel vPro Platform Eligibility
Intel 64
Intel Virtualization Technology (VT-x)
Intel Turbo Boost Technology
Instruction Set
Thermal Monitoring Technologies
Intel Hyper-Threading Technology

Security
Intel Memory Protection Extensions (Intel MPX)
Intel OS Guard
Intel Boot Guard
Intel AES New Instructions
Execute Disable Bit
Intel Trusted Execution Technology
Intel Software Guard Extensions (Intel SGX)
Secure Key
Part numbers
Expansion Options

Performance
| | |
| --- | --- |
| Cinebench R15 Multi-Core | 458 |
| Cinebench R15 Single-Core | 181 |
| Cinebench R20 Multi-Core | 874 |
| Cinebench R20 Single-Core | 370 |
| Cinebench R23 Multi-Core | 3136 |
| Cinebench R23 Single-Core | 1251 |
| GeekBench 5.2 Multi-Core | 2531 |
| GeekBench 5.2 Single-Core | 1122 |
| PassMark | 4831 |
| Single Thread Mark | 2467 |
Graphics
GPU
Intel HD Graphics 630
Frequency
350 MHz
Max. frequency
1150 MHz
Graphics technologies
4K Support: at 60Hz
Max Resolution (eDP - Integrated Flat Panel): 4096x2304 at 60Hz
Graphics Video Max Memory
Max Resolution (DP): 4096x2304 at 60Hz
Intel InTru 3D Technology
Intel Clear Video Technology
DirectX: 12
Max Resolution (HDMI): 4096x2304 at 24Hz
Intel Quick Sync Video
Intel Clear Video HD Technology
OpenGL: 4.5
Max Displays
3
Memory
| | |
| --- | --- |
| Type | DDR4-2133/2400, DDR3L-1333/1600 @ 1.35V |
| Memory Channels | 2 |
| Memory Size | 64 Gb |

• Cinebench r15 score
• Cinebench r20 score
• Cinebench r23 score
• GeekBench 5 score


Intel Core i3-7350K Processor Comparisons
• Vs Core i5-7442EQ
• Vs Core i5-3570K
• Vs Athlon 300GE
• Vs Core i5-10210Y
• Vs Core i7-3630QM
• Vs Athlon 320GE
• Vs Core i5-7300HQ
• Vs Core i5-4570
• Vs Core i5-6400
• Vs Core i3-1005G1
• Vs Core i5-4590
• Vs Core i3-8100T
• Vs Core i7-2600
• Vs Core i5-4670R
• Vs Core i5-1030NG7
• Vs Core i5-8365UE
• Vs Core i5-7400
• Vs Pentium Gold 7505
• Vs Core i3-9100T
• Vs Core i5-6500
• Vs Core i3-9100TE
• Vs Core i3-8300T
• Vs FX-8350 Eight-Core
• Vs Core i3-1115G4E
• Vs Core i7-8550U
• Vs Core i5-8265UC
• Vs Core i5-8250U
• Vs Core i3-1115GRE
• Vs Ryzen 3 3350U
• Vs Core i3-1110G4
• Vs Core i5-4460
• Vs Core i5-4470S
• Vs Athlon Silver PRO 3125GE
• Vs Core i5-3470
• Vs Core i5-6442EQ
• Vs Core i3-1000NG4
• Vs Pentium Gold G7400
• Vs Pentium Gold G7400T
• Vs Athlon PRO 300U
• Vs Pentium Gold G7400E
• Vs Pentium Gold G7400TE
• Vs Core i3-8121U
• Vs Athlon Silver 3050GE
• Vs Core i3-8109U
• Vs Ryzen 3 3250C
• Vs Pentium Gold G6605
• Vs Athlon Gold 3150U
• Vs Pentium Gold G6505
• Vs Pentium Gold G6500
• Vs Core i3-8145UE
• Vs Pentium Silver N6005
• Vs Pentium Gold G6405
• Vs Athlon PRO 200U
• Vs Core i5-7287U
• Vs FX-6300 Six-Core
• Vs Core i3-10110U
• Vs Pentium Silver N6000
• Vs Core i3-7101TE
• Vs Pentium Gold G6505T
• Vs Pentium Gold G6405T
• Vs Pentium Gold G6400