| | |
| --- | --- |
| | AMD Ryzen 5 PRO 4655GE specs |
AMD Ryzen 5 PRO 4655GE at 3.3 GHz Top Level processor 2nd generation with Renoir core name, designed for work in Desktops with AM4 socket, released in November 11, 2022. The processor created by a 7 nm process. AMD Ryzen 5 PRO 4655GE has 6 cores and 12 Threads operating at 3.3 GHz (Turbo mode - 4.2 GHz) with typical Thermal Design Power 35 W.
The others technical specifications and some more information about the processor like Cashes Size, Unlocked or not, 64 Bit support, Memory Specification/Type, Overclocking, Die Size, Architecture and other can be found below.
You can find out whether AMD Ryzen 5 PRO 4655GE is bad or good by looking at comparisons with other CPUs and testing data.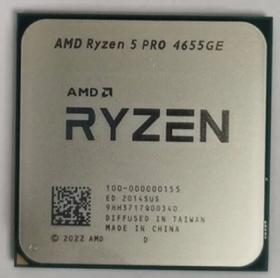 AMD Ryzen 5 PRO 4655GE specifications
General Info
Name
AMD Ryzen 5 PRO 4655GE
Core name
Renoir
Generation
2nd
Architecture
Zen 2
Release date
November 11, 2022
Frequency
3.3 GHz
Turbo frequency
4.2 GHz
Cores
6
Threads
12
Unlocked
No
Socket
AM4
Thermal Design Power (TDP)
35 W
Min TDP
45 W
Max. Temperature
95 &degC
L3 Cache
8MB
Word Size
64 bit
TSMC FinFET process (Lithography)
7 nm
Transistor count
4600 million
Technologies
AMD PRO technologies

Supported OS
Windows 11 - 64-Bit EditionWindows 11 - 64-Bit Edition
Windows 10 - 64-Bit Edition
RHEL x86 64-Bit
Ubuntu x86 64-Bit

Part numbers
100-000001156
100-100001156MPK
Performance
| | |
| --- | --- |
| Cinebench R15 Multi-Core | 1570 |
| Cinebench R15 Single-Core | 211 |
| Cinebench R20 Multi-Core | 3481 |
| Cinebench R20 Single-Core | 496 |
| Cinebench R23 Multi-Core | 9328 |
| Cinebench R23 Single-Core | 1255 |
| GeekBench 5.2 Multi-Core | 7236 |
| GeekBench 5.2 Single-Core | 1276 |
| PassMark | 16611 |
| Single Thread Mark | 2667 |
Graphics
| | |
| --- | --- |
| GPU | Radeon Graphics |
| Frequency | 1900 MHz |
| Cores | 7 |
| Display Port | Yes |
| HDMI | Yes |
Memory
| | |
| --- | --- |
| Type | DDR4 |
| Frequency | 3200 MHz |
| Memory Channels | 2 |

• Cinebench r15 score
• Cinebench r20 score
• Cinebench r23 score
• GeekBench 5 score


AMD Ryzen 5 PRO 4655GE Processor Comparisons
• Vs Ryzen 9 7900X
• Vs Core i9-13900KF
• Vs Ryzen 9 3900X
• Vs Ryzen 5 5600X
• Vs Core i5-12600K
• Vs Core i7-12700K
• Vs Core i9-13900KS
• Vs Ryzen 9 7950X
• Vs Core i9-13900K
• Vs Ryzen 7 5800X
• Vs Apple M1 Ultra
• Vs Ryzen 9 7900X3D
• Vs Ryzen 9 5950X
• Vs Core i7-13700K
• Vs Core i9-12900K
• Vs Ryzen 9 7950X3D
• Vs Ryzen 9 5900X
• Vs Ryzen 7 3700X
• Vs Core i7-13700KF
• Vs Core i9-12900KS
• Vs Ryzen 7 7700X
• Vs Ryzen 9 7900
• Vs Ryzen 7 5800X3D
• Vs Core i5-13600K
• Vs Core i7-9700K
• Vs Ryzen 5 5600G
• Vs Core i9-11900K
• Vs Core i7-11700K
• Vs Ryzen 5 7600X
• Vs Ryzen 9 5600X
• Vs Ryzen 7 5700X
• Vs Core i5-13600KF
• Vs Ryzen 9 5800X
• Vs Core i7-12700F
• Vs Ryzen 5 3600
• Vs Ryzen 3 PRO 5350GE
• Vs Ryzen 5 5600
• Vs Ryzen 5 5600GE
• Vs Core i9-10900K
• Vs Ryzen 5 PRO 4650GE
• Vs Ryzen 5 3600XT
• Vs Ryzen 3 PRO 5350G
• Vs Core i9-9900K
• Vs Ryzen 5 3600X
• Vs Ryzen 5 1600
• Vs Ryzen 7 5700G
• Vs Ryzen 5 PRO 4400GE
• Vs Core i5-12400F
• Vs Ryzen 5 5500
• Vs Ryzen 5 PRO 4655G
• Vs Ryzen 5 7600
• Vs Ryzen 7 7700
• Vs Ryzen 5 PRO 5645
• Vs Ryzen 7 PRO 5845
• Vs Core i3-12100F
• Vs Core i3-12100
• Vs Core i5-12490F
• Vs Core i3-13100
• Vs Core i5-12500
• Vs Core i5-13400
• Vs Core i5-12600
• Vs Core i3-12300
• Vs Core i5-12400
• Vs Core i5-9600K
• Vs Core i5-11400F
• Vs Core i9-13900F
• Vs Core i7-12700KF
• Vs Core i9-13900
• Vs Core i9-12900KF
• Vs Core i7-13700F
• Vs Core i5-13600
• Vs Core i5-13500
• Vs Core i7-13700
• Vs Core i7-12700
• Vs Ryzen 7 Pro 5750GE
• Vs Core i5-13400F
• Vs Ryzen 5 PRO 3600
• Vs Ryzen 7 PRO 4750GE
• Vs Ryzen 5 4500
• Vs Core i3-13300F
• Vs Ryzen 5 PRO 5650GE
• Vs Core i5-13490F
• Vs Core i3-13100F
• Vs Core i5-12600KF
• Vs Ryzen 7 7800X3D
• Vs Ryzen 3 PRO 4355GE