| | |
| --- | --- |
| | AMD Ryzen 3 PRO 5350G specs |
AMD Ryzen 3 PRO 5350G at 4 GHz High Mid Range CPU 5th generation with Cezanne core name, designed for work in Desktops with AM4 socket, announced in June 01, 2021. The processor created by a 7 nm process. AMD Ryzen 3 PRO 5350G has 4 cores and 8 Threads working at 4 GHz (Turbo mode - 4.2 GHz) with typical Thermal Design Power 65 W.
The others technical specifications and more information about the processor like Architecture, Overclocking, 64 Bit support, Unlocked or not, Memory Specification/Type, Cashes Size, Die Size and other can be found below.
You can find out whether AMD Ryzen 3 PRO 5350G is good or bad by looking at comparisons with other CPUs and testing results.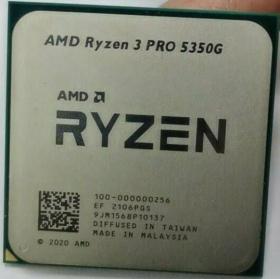 AMD Ryzen 3 PRO 5350G specifications
General Info
Name
AMD Ryzen 3 PRO 5350G
Core name
Cezanne
Generation
5th
Architecture
Zen 3
Release date
June 01, 2021
Price
135 USD
Frequency
4 GHz
Turbo frequency
4.2 GHz
Cores
4
Threads
8
Unlocked
No
Socket
AM4
Thermal Design Power (TDP)
65 W
Max. Temperature
95 &degC
L3 Cache
8MB
Word Size
64 bit
TSMC FinFET process (Lithography)
7 nm
Transistor count
4800 million
Supported OS
Windows 10 - 64-Bit EditionWindows 10 - 64-Bit Edition
RHEL x86 64-Bit
Ubuntu x86 64-Bit

Part numbers
100-000000256

Performance
| | |
| --- | --- |
| Cinebench R15 Multi-Core | 1117 |
| Cinebench R15 Single-Core | 126 |
| Cinebench R20 Multi-Core | 454 |
| Cinebench R20 Single-Core | 236 |
| Cinebench R23 Multi-Core | 5798 |
| Cinebench R23 Single-Core | 1027 |
| GeekBench 5.2 Multi-Core | 4839 |
| GeekBench 5.2 Single-Core | 1356 |
| PassMark | 14291 |
| Single Thread Mark | 2204 |
Graphics
| | |
| --- | --- |
| GPU | Radeon Graphics |
| Frequency | 1700 MHz |
| Cores | 6 |
| Display Port | Yes |
| HDMI | Yes |
Memory
| | |
| --- | --- |
| Type | DDR4 |
| Frequency | 3200 MHz |
| Memory Channels | 2 |

• Cinebench r15 score
• Cinebench r20 score
• Cinebench r23 score
• GeekBench 5 score


AMD Ryzen 3 PRO 5350G Processor Comparisons
• Vs Ryzen 9 7900X3D
• Vs Ryzen 7 1700
• Vs Ryzen 5 4500
• Vs Ryzen 3 PRO 4350G
• Vs Ryzen 9 5950X
• Vs Ryzen 9 5900X
• Vs Ryzen 5 2600
• Vs Ryzen 5 PRO 3350GE
• Vs Core i7-9700K
• Vs Core i3-13100
• Vs Apple M1 Ultra
• Vs Ryzen 5 7600X
• Vs Ryzen 5 PRO 3350G
• Vs Ryzen 3 PRO 4200GE
• Vs Ryzen 3 PRO 5350GE
• Vs Ryzen 7 2700
• Vs Ryzen 9 7900X
• Vs Ryzen 7 PRO 2700
• Vs Ryzen 5 PRO 4400GE
• Vs Ryzen 5 1600
• Vs Ryzen 7 7700X
• Vs Ryzen 9 7950X3D
• Vs Ryzen 7 PRO 1700X
• Vs Ryzen 3 PRO 4350GE
• Vs Ryzen 5 2600X
• Vs Core i3-13100F
• Vs Ryzen 9 7950X
• Vs Ryzen 5 5600X
• Vs Ryzen 5 5600
• Vs Ryzen 7 5700G
• Vs Ryzen 7 3700X
• Vs Ryzen 5 3600X
• Vs Core i9-10900K
• Vs Core i7-11700K
• Vs Ryzen 5 5600G
• Vs Ryzen 7 5800X
• Vs Ryzen 7 5800X3D
• Vs Ryzen 7 3800X
• Vs Core i9-13900K
• Vs Core i9-9900K
• Vs Core i9-13900KS
• Vs Ryzen 5 3600
• Vs Core i5-9600K
• Vs Ryzen 5 5600GE
• Vs Core i7-13700K
• Vs Ryzen 7 5700X
• Vs Core i9-13900KF
• Vs Core i5-13600K
• Vs Core i9-11900K
• Vs Ryzen 9 5600X
• Vs Core i7-13700KF
• Vs Core i7-12700KF
• Vs Core i5-13600KF
• Vs Core i9-12900K
• Vs Core i7-12700K
• Vs Core i7-12700
• Vs Ryzen 9 3900X
• Vs Core i5-12600K
• Vs Ryzen 5 PRO 4655GE
• Vs Ryzen 3 PRO 4355G