| | |
| --- | --- |
| | AMD Athlon Gold 7220U specs |
AMD Athlon Gold 7220U at 2.4 GHz Low Mid Range processor 2nd generation with Mendocino core name, is working in Desktops with FP6 socket, CPU release date September 20, 2022. The CPU manufactured using 6 nm process technology. AMD Athlon Gold 7220U has 2 cores and 4 Threads operating at 2.4 GHz (Turbo mode - 3.7 GHz) with typical Thermal Design Power 15 W.
The others technical specifications and some more information about the processor like Die Size, Cashes Size, Architecture, Memory Specification/Type, Unlocked or not, 64 Bit support, Overclocking and other can be found further down the text.
You can find out whether AMD Athlon Gold 7220U is good or bad from testing data and comparisons with other CPUs.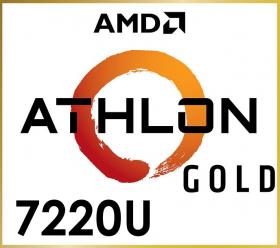 AMD Athlon Gold 7220U specifications
General Info
Name
AMD Athlon Gold 7220U
Core name
Mendocino
Generation
2nd
Architecture
Zen 2
Release date
September 20, 2022
Frequency
2.4 GHz
Turbo frequency
3.7 GHz
Cores
2
Threads
4
Unlocked
No
Socket
FP6
Thermal Design Power (TDP)
15 W
Max. Temperature
95 &degC
L3 Cache
4MB
Word Size
64 bit
TSMC FinFET process (Lithography)
6 nm
Transistor count
3200 million
Technologies
AMD Memory Guard
DASH 1.2
AMD GuardMI Technology
Supported OS
Windows 11 - 64-Bit EditionWindows 11 - 64-Bit Edition
Ubuntu x86 64-Bit

Part numbers
100-000000771

Performance
| | |
| --- | --- |
| Cinebench R15 Multi-Core | 525 |
| Cinebench R15 Single-Core | 106 |
| Cinebench R20 Multi-Core | 1133 |
| Cinebench R20 Single-Core | 255 |
| Cinebench R23 Multi-Core | 3071 |
| Cinebench R23 Single-Core | 644 |
| GeekBench 6, 5.2 Multi-Core | 2408 |
| GeekBench 6, 5.2 Single-Core | 1002 |
| PassMark | 5406 |
| Single Thread Mark | 2397 |
Graphics
GPU
AMD Radeon 610M
Frequency
1900 MHz
Cores
2
Display Port
Yes
HDMI
Yes
Graphics technologies
AMD FreeSync
Multi-Monitor Support
Memory
| | |
| --- | --- |
| Type | LPDDR5 |
| Frequency | 5500 MHz |
| Memory Channels | 2 |

• Cinebench r15 score
• Cinebench r20 score
• Cinebench r23 score
• GeekBench 6, 5.2 score


AMD Athlon Gold 7220U Processor Comparisons
• Vs Athlon Gold 3150C
• Vs Ryzen 3 7320U
• Vs Ryzen 3 5425C
• Vs Athlon Silver 3050U
• Vs Athlon PRO 200U
• Vs Athlon PRO 300U
• Vs Athlon Gold 3150U
• Vs Core i5-8250U
• Vs Athlon Silver 3050e
• Vs Athlon Silver 3050C
• Vs Ryzen 3 7330U
• Vs Ryzen 5 7520U
• Vs Ryzen 5 5625U
• Vs Ryzen 3 5125C
• Vs Athlon Silver 7120U