| | |
| --- | --- |
| | Mali-G31 2EE Dvalin GPU @ 650 MHz specs |
Mali-G31 2EE Dvalin @ 650 MHz is a mid-range Graphics Processing Unit designed for mobile processors which are used in phones and tablets, date of announcement 2021. The GPU manufactured using 12 nm process technology. Mali-G31 2EE Dvalin has two cores operating at a frequency of 650 MHz and is working with graphics, or simply put the GPU helps games look better and more beautiful and pleasing to the eye, for example Asphalt 9, Madout2, Fortnite, PUBG, GTA, Call of Duty, Minecraft and many others.
To understand Mali-G31 2EE Dvalin @ 650 MHz GPU is good or bad by looking at testing data and comparisons with other graphics processing units.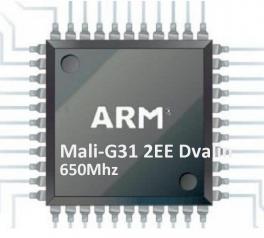 Mali-G31 2EE Dvalin @ 650 MHz GPU specifications
General Info
| | |
| --- | --- |
| Name | Mali-G31 2EE Dvalin |
| Codename (Generation) | Bifrost 1st gen. |
| Frequency | 650 MHz |
| Cores | 2 |
| Process | 12 nm |
| GFLOPs FP32 (Single Precision) | 21.36 GFLOPs |
| Triangle Fillrate | 976 MT/s |
| Pixel Fillrate | 1.28 GP/s |
| Release date | 2021-12-01 |
Display
DirectX
11
Video encoding/decoding
h264:Decode & Encode
VP8:Decode & Encode
VP9:Decode & Encode
h265/HEVC (8 bit):Decode & Encode
AVC:Decode
VC-1:Decode
JPEG:Decode & Encode
h265/HEVC (10 bit):Decode & Encode
AV1:No
Anti-aliasing
4x MSAA, 8x MSAA, 16x MSAA
Technology
Vulkan 1.1
OpenGL ES 1.1, 2.0, 3.1, 3.2
OpenCL 1.1, 1.2, 2.0 Full Profile
Additional information
AMBA4 ACE, ACE-LITE and AXI
Arm Frame Buffer Compression (AFBC): Version 1.2 4x4 pixel block size
Adaptive Scalable Texture Compression (ASTC): Low Dynamic Range (LDR) and High Dynamic Range (HDR). Supports both 2D and 3D images




• GPU Fortnite Mobile
• GPU PUBG mobile
• GPU Benchmarks
• GPU Devices lists
• GPU SoCs lists


Mali-G31 2EE Dvalin GPU Comparisons
• Vs Adreno 418 (600MHz)
• Vs Intel HD Graphics (Cherry Trail) (700MHz)
• Vs Adreno 508 (850MHz)
• Vs Mali-T624 MP4 (533MHz)
• Vs Adreno 506 (650MHz)
• Vs Adreno 420 (600MHz)
• Vs Adreno 430 (650MHz)
• Vs Intel HD Graphics 400 (Braswell) (600MHz)
• Vs Mali-T860 MP4 (600MHz)
• Vs Intel HD Graphics (Cherry Trail) (600MHz)
• Vs Adreno 430 (500MHz)
• Vs Mali-T604 MP4 (533MHz)
• Vs PowerVR GE8320 (650MHz)
• Vs Mali-470 MP4 (650MHz)
• Vs Mali-T658 MP6 (600MHz)
• Vs PowerVR GX6250 (650MHz)
• Vs Mali-T678 MP8 (700MHz)
• Vs Mali-T760 MP8 (772MHz)
• Vs Mali-T860 MP4 (922MHz)
• Vs Mali-T880 MP4 (780MHz)
• Vs Adreno 510 (600MHz)
• Vs Mali-T880 MP4 (850MHz)
• Vs Mali-G52 MP1 (800MHz)
• Vs Mali-G71 MP3 (1200MHz)
• Vs Mali-G71 MP8 (1037MHz)
• Vs Mali-T880 MP4 (875MHz)
• Vs Adreno 509 (850MHz)
• Vs Mali-T880 MP4 (900MHz)
• Vs Mali-G710 MC10 (850MHz)
• Vs Adreno 730 (900MHz)
• Vs Mali-G71 MP2 (950MHz)
• Vs Mali-G71 MP2 (770MHz)
• Vs Mali-T880 MP2 (900MHz)
• Vs Mali-T860 MP3 (700MHz)
• Vs Mali-G31 MP2 (650MHz)
• Vs Adreno 420 (500MHz)
• Vs Mali-T880 MP2 (1000MHz)
• Vs Intel HD Graphics (Cherry Trail) (500MHz)
• Vs Mali-G71 MP2 (700MHz)
• Vs Mali-T830 MP3 (950MHz)
• Vs Mali-T860 MP2 (700MHz)
• Vs Mali-T820 MP2 (800MHz)
• Vs Mali-T860 MP2 (800MHz)
• Vs Mali-T830 MP2 (900MHz)
• Vs PowerVR G6200 (700MHz)
• Vs PowerVR G6200 (600MHz)
• Vs Mali-T628 MP6 (680MHz)
• Vs PowerVR G6200 (450MHz)
• Vs PowerVR G6430 (640MHz)
• Vs Mali-T760 MP6 (700MHz)
• Vs Mali-T760 MP4 (600MHz)
• Vs Adreno 330 (578MHz)
• Vs Mali-T830 MP2 (700MHz)
• Vs Adreno 505 (500MHz)
• Vs Mali-T860 MP2 (650MHz)
• Vs Mali-T760 MP2 (700MHz)
• Vs Mali-T860 MP2 (520MHz)
• Vs Mali-T860 MP2 (350MHz)
• Vs PowerVR GE8100 (570MHz)
• Vs Mali-450 MP6 (600MHz)
• Vs Adreno 702 (845MHz)
• Vs Adreno 725 (950MHz)