| | |
| --- | --- |
| | Qualcomm Snapdragon 4 Gen 1 specs |
Qualcomm Snapdragon 4 Gen 1 mid level chipset designed for installation in mobile devices such as smartphones and tablets, SoC release year 2022. The processor created by a 6 nm process. The SoC has a octa-core configuration divided into two blocks. The first block Cortex-A710 is the fastest with four cores working at 2.0 GHz. The second Cortex-A510 has four cores running at 1.4 GHz. The processor has support for 64-bit data. Adreno 660 GPU works with graphical data.
Devices that have the Qualcomm Snapdragon 4 Gen 1 can work in 4G and 5th generation networks. Maximum speed of download and upload are 2500 MBit/s and 900 MBit/s with the Qualcomm Snapdragon X51 5G Modem-RF System modem.
You can find out whether Qualcomm Snapdragon 4 Gen 1 SoC is good or bad by looking at comparisons with other processors and benchmark data.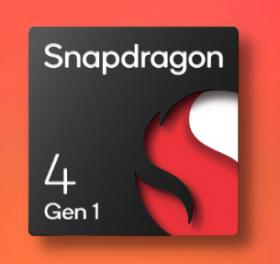 Qualcomm Snapdragon 4 Gen 1 specifications
General Info
Brand
Qualcomm
Name
Snapdragon 4 Gen 1
Model
SM4375
Release date
2022
CPU configuration
4x2.0 GHz Cortex-A710, 4x1.4 GHz Cortex-A510
Instruction set architecture
ARMv8.2-A
Frequency
2000 MHz
Cores
8
Word Size
64 bit
Process
6 nm
Transistor count
8000 million
Technologies
Dual Bluetooth Antennas, Bluetooth 5.2, Qualcomm aptX Adaptive Audio, LE Audio Features (broadcast audio), Wi-Fi/Bluetooth Subsystem: Qualcomm FastConnect 6700/6900, LE Audio Features, Qualcomm aptX Voice, Qualcomm TrueWireless Technology
Security
Qualcomm 3D Sonic Max, Voice, WiFi-Protect, Qualcomm Processor Security, Camera Security, Secure Boot, Iris, Crypto Engine, Mobile Payments, Key Provisioning Security, Malware Protection, Secure Processing Unit (SPU260): Biometric Authentication (Face/Fingerprint Sensor), Qualcomm 3D Sonic, Secure Token, Qualcomm Content Protection, Qualcomm Mobile Security, Qualcomm Trusted Execution Environment
Neural Processing Unit
Hexagon 790 Processor
3rd gen Sensing Hub, Large shared AI memory, Hexagon Voice Assistant Accelerator, Hexagon Scalar Accelerator, Hexagon Vector eXtensions (HVX), Hexagon Tensor Accelerator
Power consumption (TDP)
7 W
L1 cache
1 MB
L2 cache
2 MB
L3 cache
8 MB
Graphics
| | |
| --- | --- |
| GPU | Adreno 660 |
| Frequency | 700 MHz |
| Process | 5 nm |
Memory
| | |
| --- | --- |
| Type | LPDDR5 (Quad Channel) |
| Frequency | 2133 MHz |
| Max volume | 12 Gb |
| Internal type | UFS 3.2 |
| Memory bandwidth | 64 GB/s |
| Memory bus | 8x 16 Bit |
Connectivity
| | |
| --- | --- |
| Modem | Qualcomm Snapdragon X51 5G Modem-RF System |
| Download speed | 2500 MBit/s |
| Upload speed | 900 MBit/s |
| LTE Cat | Cat-21 DL/Cat-17 UL |
| Wi-Fi ranges | 802.11a/b/g, 802.11n, Wi-Fi 6E, Wi-Fi 5, Wi-Fi 6, 160 M, MU-MIMO (Uplink and Downlink), 8x8 sounding |
| Location | GPS, GLONASS, Galileo, Dual frequency GNSS, GNSS, SBAS, NavIC enabled, NavIC, Beidou, QZSS |
| Wi-Fi ver. | 6 |
| Bluetooth ver. | 5.2 |
Cameras
| | |
| --- | --- |
| Main camera max resolution | 200 MPix |
| Second camera max resolution | 25 and 13 MPix |
| Codecs | 7680 x 4320, max FPS 240. Codec: Dolby Vision, H.264/AVC,H.265/HEVC, HDR10+, HLG, HDR10 |
| Technologies | Low light photography architecture, Bokeh Engine for Video Capture, Hardware accelerator for computer vision (CV-ISP), Video super resolution, Triple 14-bit CV-ISPs, 10-bit HDR HEIF photo capture, Slow Motion Video Capture: 720p @ 960 FPS, Qualcomm Spectra 580 image signal processor, 8K video capture at 30fps, 8K HDR Video Capture + 64 MP Photo Capture, 4K Video Capture @ 120 FPS, Multi-frame Noise Reduction (MFNR), Real-time object classification |
Display and Audio
| | |
| --- | --- |
| Maximum Display resolution | 2520 x 1080 pix |
| Video encoding | Resolution 8K, 4K (Ultra HD), 2K, FullHD, max FPS 240. Codec: Dolby Vision, H.264/AVC,H.265/HEVC, HDR10+, HLG, HDR10 |

• Devices lists
• Benchmarks
• PUBG mobile
• Fortnite Mobile
• Antutu 8
• 3DMark
• GeekBench 5 mobile


Qualcomm Snapdragon 4 Gen 1 SoC Comparisons
• Vs Samsung Exynos 9 9820
• Vs Mediatek Dimensity 810
• Vs MediaTek Dimensity 820
• Vs Apple A12 Bionic
• Vs HiSilicon Kirin 985
• Vs MediaTek Dimensity 1000C
• Vs MediaTek Kompanio 800T
• Vs HiSilicon Kirin 990E
• Vs MediaTek Kompanio 820
• Vs Qualcomm Snapdragon 860
• Vs HiSilicon Kirin 990 5G
• Vs MediaTek Kompanio 828
• Vs Mediatek Dimensity 900
• Vs Qualcomm Snapdragon 8cx Gen 3
• Vs MediaTek Kompanio 900T
• Vs MediaTek Dimensity 930
• Vs MediaTek Dimensity 1000 Plus
• Vs Qualcomm Snapdragon 778G
• Vs Mediatek Dimensity 920
• Vs Samsung Exynos 990
• Vs Apple A13 Bionic
• Vs MediaTek Dimensity 1000L
• Vs Qualcomm Snapdragon 775G
• Vs Qualcomm Snapdragon 778G+
• Vs Apple A14 Bionic
• Vs MediaTek Dimensity 1050
• Vs Qualcomm Snapdragon 865
• Vs MediaTek Dimensity 1100
• Vs MediaTek Dimensity 1200
• Vs HiSilicon Kirin 9000L
• Vs Samsung Exynos 1280
• Vs Qualcomm Snapdragon 695
• Vs Qualcomm Snapdragon 8cx Gen 2
• Vs HiSilicon Kirin 820 5G
• Vs MediaTek Helio G99
• Vs Samsung Exynos 9825
• Vs Qualcomm Snapdragon 8cx
• Vs HiSilicon Kirin 980
• Vs Qualcomm Snapdragon 768G
• Vs HiSilicon KIRIN 820E 5G
• Vs MediaTek Dimensity 800
• Vs Qualcomm Snapdragon 690 5G
• Vs Qualcomm Snapdragon 855 Plus
• Vs MediaTek Dimensity 800U
• Vs MediaTek Helio G96
• Vs Qualcomm Snapdragon 750G
• Vs Unisoc T770 Tanggula
• Vs MediaTek Dimensity 720 5G
• Vs Qualcomm Snapdragon 480 Plus
• Vs MediaTek Helio G95
• Vs Qualcomm Snapdragon 765G
• Vs Qualcomm Snapdragon 8c
• Vs Qualcomm Snapdragon 855
• Vs Qualcomm Snapdragon 732G
• Vs MediaTek Helio G90
• Vs MediaTek Dimensity 700
• Vs Qualcomm Snapdragon 845 SDM845
• Vs MediaTek Helio G90T
• Vs Unisoc T760 Tanggula
• Vs Apple A11 Bionic
• Vs Qualcomm Snapdragon 680
• Vs Qualcomm Snapdragon 480 5G
• Vs MediaTek Helio G88
• Vs Unisoc Tiger T700
• Vs Unisoc Tiger T710
• Vs Apple A10 Fusion
• Vs HiSilicon Kirin 810
• Vs Unisoc T740 Tanggula
• Vs Unisoc Tiger T7520
• Vs Samsung Exynos 980
• Vs MediaTek Helio G85
• Vs Unisoc Tiger T612
• Vs Qualcomm Snapdragon 678
• Vs Samsung Exynos 2000
• Vs MediaTek Kompanio 1380
• Vs Qualcomm Snapdragon 865 Plus
• Vs Samsung Exynos 2100
• Vs Apple A12X Bionic
• Vs Samsung Exynos 1080
• Vs HiSilicon Kirin 9000E
• Vs Mediatek Dimensity 1200 Max
• Vs Qualcomm Snapdragon 6 Gen 1
• Vs Qualcomm Snapdragon 7 Gen 1
• Vs Qualcomm Snapdragon 8 Gen 1
• Vs Qualcomm Snapdragon 8 Plus Gen 1
• Vs Qualcomm Snapdragon G3x Gen 1
• Vs Qualcomm Snapdragon 8 Gen 2
• Vs MediaTek Dimensity 8000-Max
• Vs MediaTek Dimensity 8100-Ultra
• Vs Apple M2
• Vs MediaTek Dimensity 1080
• Vs MediaTek Dimensity 9200
• Vs Qualcomm Snapdargon 782G